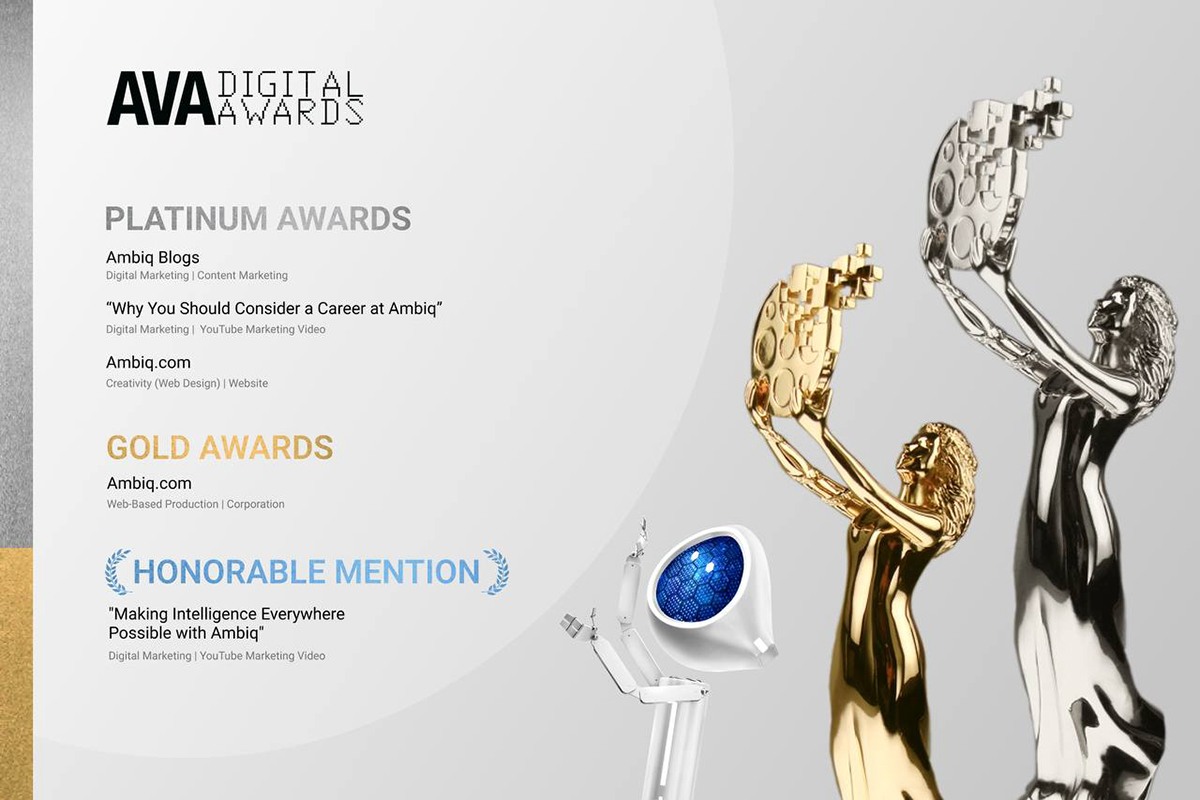 Recognized for Its Commitment to Focus, Quality, and Originality, the Platinum, Gold, and Honorable Awards Are Given to Multiple Categories
Ambiq®, a pioneer in ultra-low power semiconductors, is once again recognized for its novel design, meticulous execution, and pioneering spirit in a conventional industry.
The Association of Marketing and Communication Professionals (AMCP) awarded Ambiq five 2023 AVA Digital Awards, including three platinum, one gold, and one honorable mention for its videos, website, and EndpointAI Blog. Winners were selected from over 200 categories in audio, video, and web-based production.
"It's an extraordinary honor to be selected among thousands of global entries by such an esteemed professional association as the AMCP," said Charlene Wan, VP of Branding, Marketing, and Investor Relations. "We are grateful for and encouraged by the trust and support from our board, executives, and the entire team in our unorthodox approach toward branding and marketing."
AVA Digital recognizes outstanding achievements by creative professionals in the concept, direction, design, and production of media that is part of the evolution of digital communication. Work ranges from audio and video productions – to websites and social media sites that present interactive components such as video, animation, blogs, and podcasts – to other forms of user-generated digital communication.
About the Association of Marketing and Communications Professionals
AVA Digital Awards is sponsored and judged by the Association of Marketing and Communications Professionals. The international organization consists of several thousand production, marketing, communication, advertising, public relations, and freelance professionals. AMCP administers recognition programs; provides judges and rewards outstanding achievement and service to the profession. As part of its mission, AMCP fosters and supports the efforts of creative professionals who contribute their unique talents to public service and charitable organizations.
About Ambiq
Ambiq's mission is to enable intelligent devices everywhere by developing the lowest-power semiconductor solutions to drive a more energy-efficient, sustainable, and data-driven world. Ambiq is a pioneer of ultra-low-power semiconductor solutions based on the proprietary and patented Subthreshold Power Optimized Technology (SPOT®) platform. SPOT provides a game-changing, multi-fold improvement in energy efficiency for our end customers' electronic products. Ambiq has helped leading manufacturers worldwide develop products that run for weeks (rather than days) on a single charge, while delivering a maximum feature set in compact industrial designs. Ambiq's goal is to take Artificial Intelligence (AI) where it has never gone before in mobile and portable devices, using Ambiq's advanced ultra-low power system on chip (SoC) solutions. Ambiq has shipped more than 150 million units as of April 2022. For more information, visit www.ambiq.com.
Contact
Charlene Wan
VP of Branding, Marketing, and Investor Relations
cwan@ambiq.com
+1.512.879.2850
Read Article in: Japanese | Simplified Chinese | Traditional Chinese