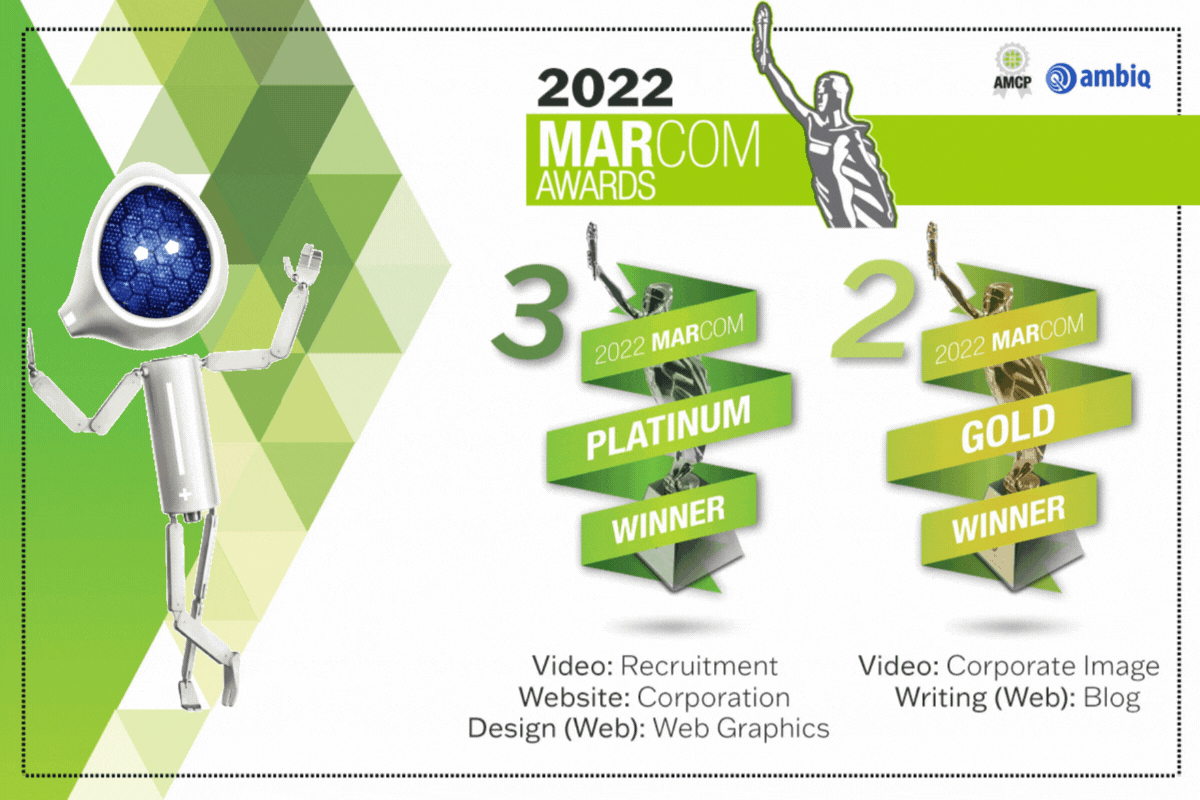 Today the Association of Marketing and Communication Professionals (AMCP) announced that Ambiq® has won five 2022 MarCom Awards, including three platinum awards for Recruitment Video, Corporate Website, and Website Design/Graphics; and two gold awards for Corporate Image Video, and Website Blogs.
"To be selected among over six thousand entries worldwide by the prestigious industry association is especially meaningful to us," said Charlene Wan, VP of Branding, Marketing, and Investor Relations. "The innovatively designed and meticulously executed branding and marcom plan is the result of the close collaborations among everyone at Ambiq. Special thanks to our CEO, Fumihide, for trusting us to be bold with many industry-first ideas and innovations."
Ambiq's mission is to enable intelligent devices everywhere by developing the lowest-power semiconductor solutions to drive a more energy-efficient, sustainable, and data-driven world. The company is a pioneer of ultra-low power semiconductor solutions based on its proprietary and patented Subthreshold Power Optimized Technology (SPOT®) platform, a game-changing multi-fold improvement in energy efficiency for electronic products. 
The MarCom Awards is an international creative competition that recognizes outstanding achievement by marketing and communication professionals. Entries come from corporate marketing and communication departments, advertising agencies, public relations firms, design shops, production companies, and freelancers. Winners are selected from over 300 categories in Print, Web, Video, and Strategic Communications. A list of Platinum and Gold Winners can be found on the Marcom Awards website at https://marcomawards.com/. 
About The Association of Marketing and Communication Professionals (AMCP) 
The MarCom Awards is sponsored and judged by the Association of Marketing and Communication Professionals (AMCP), a 27-year-old international organization consisting of several thousand creative professionals. As part of its mission, AMCP fosters and supports the efforts of creative professionals who contribute their unique talents to public service and community organizations. Over the past few years, AMCP has given over $280,000 in charitable contributions.
Contact
Charlene Wan
VP of Branding, Marketing and Investor Relations
cwan@ambiq.com
+1.512.879.2850
Read Article in: Japanese | Simplified Chinese | Traditional Chinese