Charlene Wan, Ambiq's VP of Branding, Marketing, and Investor Relations, Named Finalist in 19th Annual Stevie Awards for Women in Business
October 4, 2022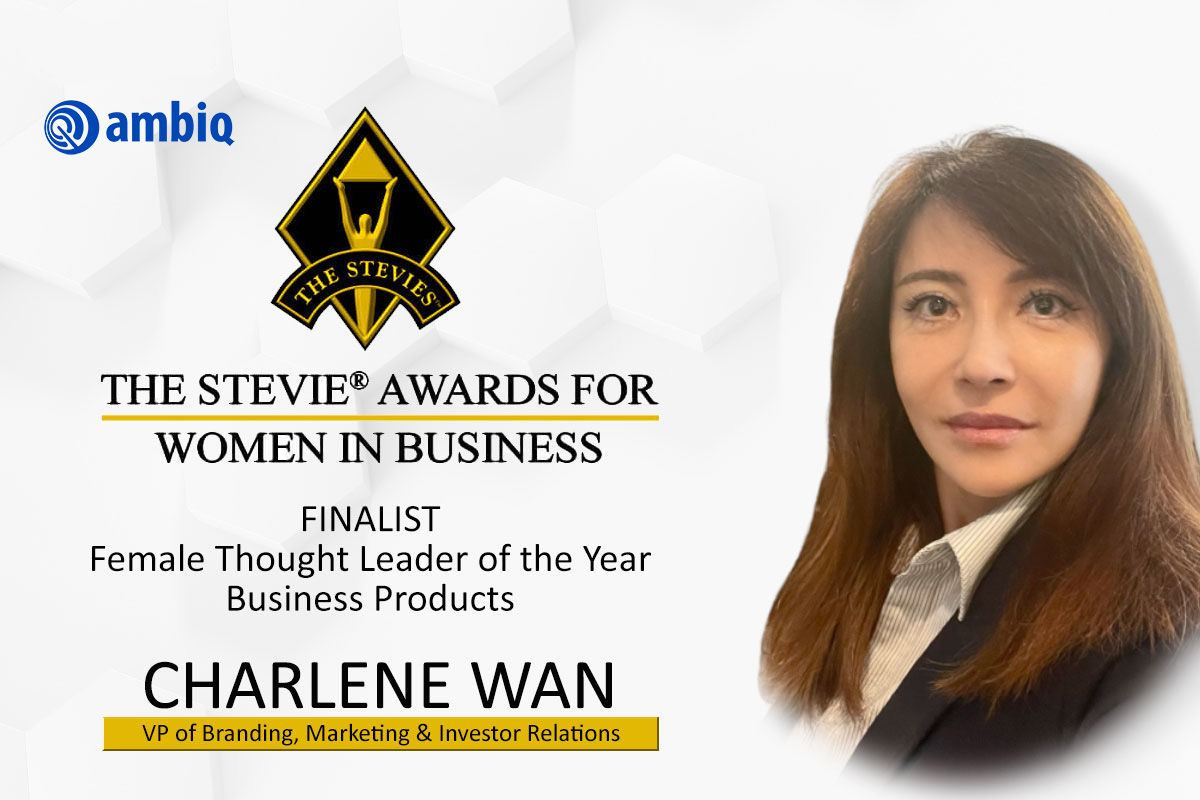 Austin, TX – Ambiq® Vice-President of Branding, Marketing, and Investor Relations Charlene Wan was named a Finalist in the Female Thought Leader of the Year category in the 19th annual Stevie® Awards for Women in Business.
"It's an honor to be recognized as a finalist for this prestigious award, especially in the company of so many other remarkable female finalists," said Ms. Wan. "I'd like to share this wonderful recognition with everyone at Ambiq, whose collective efforts helped launch us to where we are today."
As Vice-President of Branding, Marketing, and Investor Relations at Ambiq – a world leader in energy-efficient technology and endpoint intelligence ­­– Ms. Wan is no stranger to innovation. Indeed, for more than two decades, she's worked at both global enterprise technology companies and start-ups, leading her teams with a unique sensibility for market trends that's unparalleled. Her ability to deliver value and differentiation with measurable results amid high uncertainty is something to aspire to.
Since joining Ambiq, she has personally advised, guided, and supervised her marketing and branding teams through a period of unbridled growth, all the way from start-up to sustained success. She's built an award-winning web and social presence, increased user engagement, and created an environment of transparency for all employees in six countries to collaborate in real-time.
"It is our pleasure to celebrate this honor with Charlene," said Fumihide Esaka, Chairman and CEO of Ambiq. "It has been a period of dramatic change for both the world and Ambiq, and we couldn't be prouder of her dedication, professionalism, and commitment."
The Stevie Awards for Women in Business honor women executives, entrepreneurs, employees, and the companies they run – worldwide. The Stevie Awards have been hailed as the world's premier business awards.
Gold, Silver, and Bronze Stevie Award winners will be announced during a gala event at Caesar's Palace in Las Vegas on Friday, November 11. Nominated women executives and entrepreneurs from the U.S.A and several other countries are expected to attend. The event will be broadcast on Livestream.
Finalists were determined by the average scores of more than 200 business professionals around the world, working on seven juries. Their scores will also determine the Gold, Silver, and Bronze Stevie Award placements that will be revealed at the 19th annual awards dinner and presentations in Las Vegas.
"In its 19th year, the Stevie Awards for Women in Business received a remarkable collection of outstanding nominations," said Maggie Miller, president of the Stevie Awards. "We're looking forward to recognizing the Stevie Award winners in Las Vegas in November."
Details about the Stevie Awards for Women in Business and the list of Finalists in all categories are available at www.StevieAwards.com/Women.
About Ambiq
Ambiq's mission is to enable intelligent devices everywhere by developing the lowest-power semiconductor solutions to drive a more energy-efficient, sustainable, and data-driven world. Ambiq is a pioneer of ultra-low-power semiconductor solutions based on the proprietary and patented Subthreshold Power Optimized Technology (SPOT®) platform. SPOT provides a game-changing, multi-fold improvement in energy efficiency for our end customers' electronic products. Ambiq has helped leading manufacturers worldwide develop products that run for weeks (rather than days) on a single charge, while delivering a maximum feature set in compact industrial designs. Ambiq's goal is to take Artificial Intelligence (AI) where it has never gone before in mobile and portable devices, using Ambiq's advanced ultra-low power system on chip (SoC) solutions. Ambiq has shipped more than 150 million units as of April 2022. For more information, visit www.ambiq.com.
About The Stevie Awards
Stevie Awards are conferred in eight programs: the Asia-Pacific Stevie Awards, the German Stevie Awards, The American Business Awards®, The International Business Awards®, the Middle East & North Africa Stevie Awards, the Stevie Awards for Women in Business, the Stevie Awards for Great Employers, and the Stevie Awards for Sales & Customer Service. Stevie Awards competitions receive more than 12,000 nominations each year from organizations in more than 70 nations. Honoring organizations of all types and sizes and the people behind them, the Stevies recognize outstanding performances in the workplace worldwide. Learn more about the Stevie Awards at  www.StevieAwards.com. 
Read Article in: Japanese | Simplified Chinese | Traditional Chinese