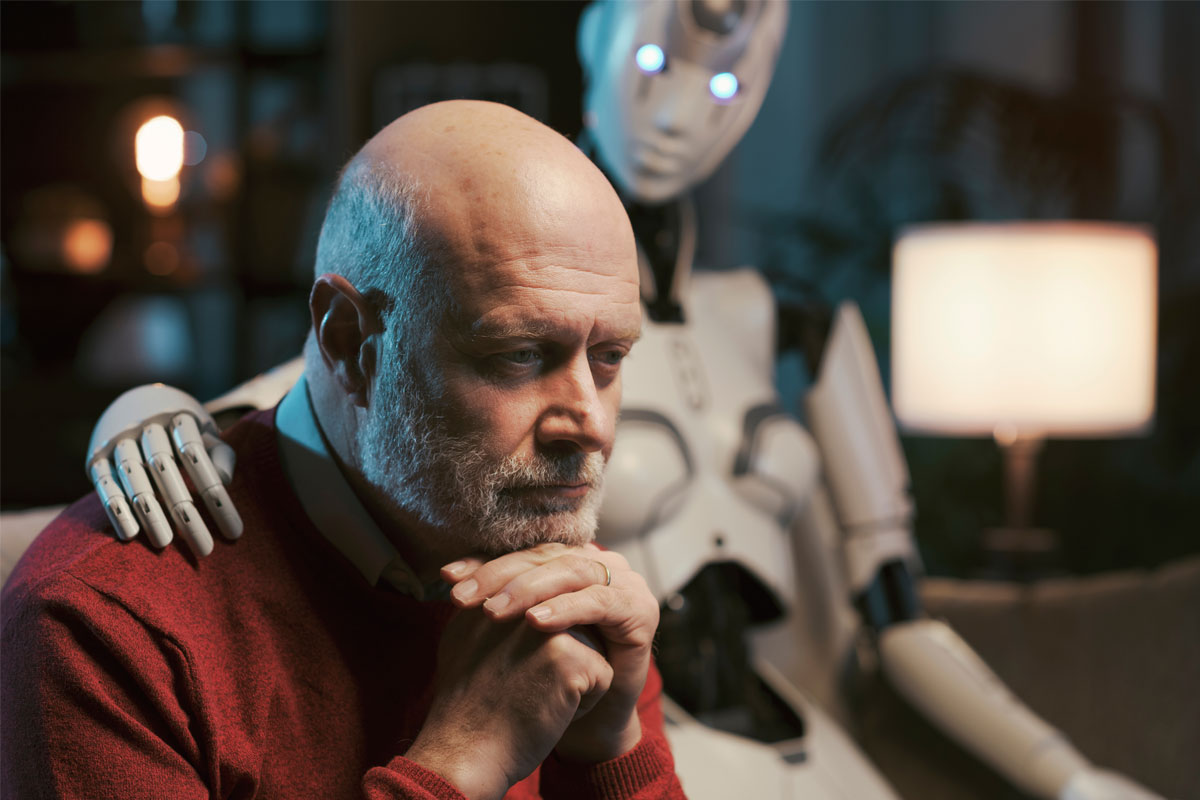 Did you know artificial intelligence (AI) can detect mental illness markers from specific voice biomarkers1? Research shows that our mental health status shows up in our voice; when we feel anxiety, our pace of speaking increases, and when we're sad, our speech slows down and is more monotone. However, these speech patterns are long-term changes for people suffering from mental illness conditions, not just simple day-to-day moods. As a result, clinicians are using AI voice detection to identify multiple types of mental illness, including depression, anxiety, schizophrenia, and post-traumatic stress disorder (PTSD.)
Mental Health in America 
The statistics around mental illness are overwhelming; the US Center for Disease Control and Prevention (CDC) believes that 50% of Americans2 might suffer from depression as a long-term consequence of COVID-19. With reduced community engagement, quarantines, job layoffs, and economic hardship, COVID-19 greatly impacted the world's mental health. Over 50 million Americans3 are experiencing mental health conditions, but alarmingly, an estimated 66% of depression cases4 go unnoticed.
Why is that, exactly? First of all, mental health conditions like depression lead to people suffering in silence, so much so that primary care doctors only correctly detect mental health conditions 47% of the time5 and make a note of them 33% of the time. Mental illness patients might have episodes that make them appear well functioning and are often good at disguising their mental health.
Unfortunately, this makes one of the most dangerous medical diagnoses extremely difficult to detect and treat. Sadly, 60% of people6 with mental health conditions never receive treatment.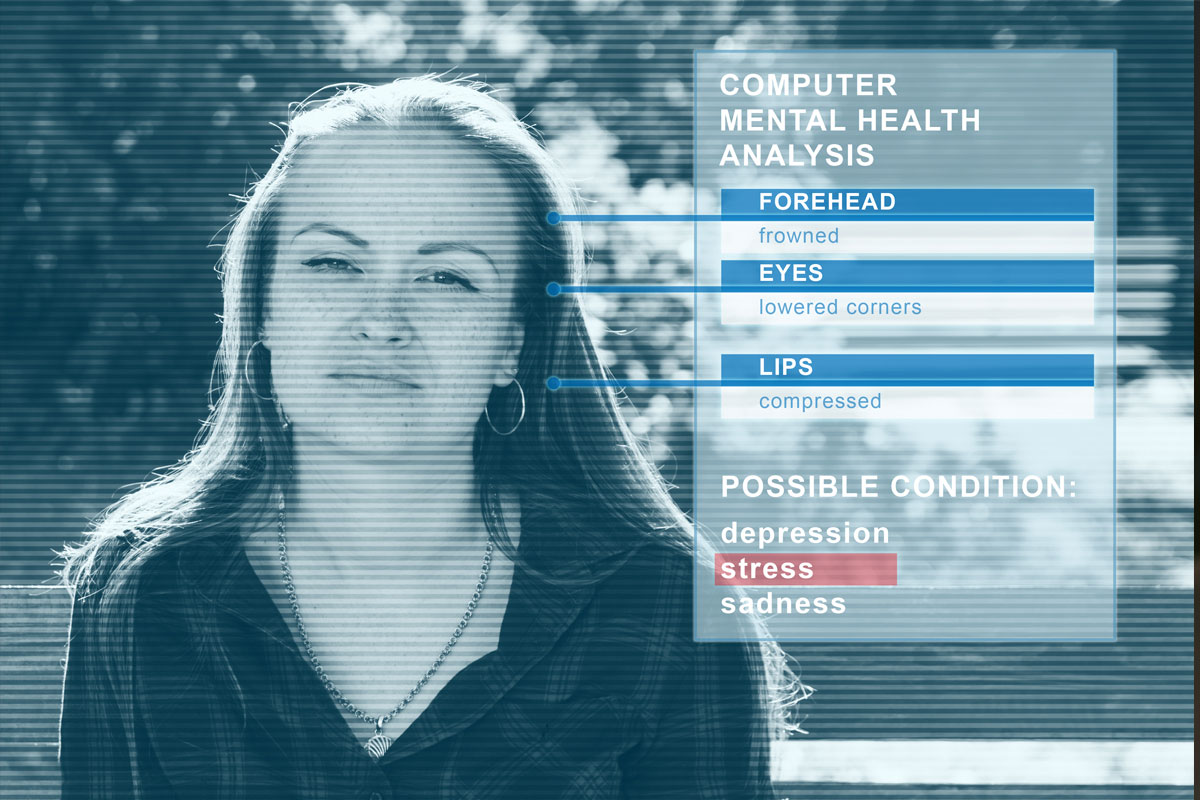 AI Detection in Mental Health 
Could AI help detect these hard-to-identify mental conditions? The short answer is yes! Mental illness, specifically depression, manifests physically in multiple ways. Typically, patients experiencing depression have flat, monotone speech with a soft tone of voice. There is less inflection and more pauses and stops. People with anxiety tend to speak rapidly, which leads to shortness of breath. Just like AI wearables provide early detection for heart diseases, Alzheimer's, and more, researchers are leveraging AI tools to uncover patterns and characteristics in short voice recordings. These markers are then measured to predict mental health status, identify trends, and proactively provide treatment.
Real-life Examples of AI Detecting Mental Illnesses 
Like many examples of AI in the supply chain, healthcare, smart homes, education, and more, the future is now. AI is actively being used by multiple companies to detect and diagnose mental illnesses. Take a look at some organizations on the front lines.
Kintsugi 
Kintsugi Voice7 harnesses AI to identify at-risk patients and overall improve patient outcomes. They claim they've developed AI voice biomarkers that detect depression with 80% accuracy compared to the 50% accuracy of clinical diagnoses. Their technology uses only a few seconds of speech to identify pitch, intonation, tone, and pauses to diagnose depression or anxiety.
Sonde Health 
Similarly, Sonde Health8 uses a few seconds of voice recording into a detailed signal map with thousands of unique characteristics. With a focus on preventative healthcare, they use these biomarkers to assess changes and provide patients with severity scores. These severity scores provide a complex layer of insight for doctors to develop personalized treatment plans.
Winterlight Labs 
Winterlight Labs9 analyzes speech clips using a short tablet-based assessment to contribute to clinical trial research. These trials focus on researching speech patterns in people of all ages to detect neurological and psychiatric disorders early.
Ellipsis Health 
With machine learning and AI, Ellipsis Health10 creates clinical-grade assessments of the severity of anxiety, depression, and stress. With actionable results, physicians can analyze these scores to create a custom treatment plan. They claim to have labeled over a million seconds of speech.
How AI Will Shape the Future of Mental Healthcare 
AI can potentially create more consistent, standardized, and proactive mental health treatment for patients. When empowered with more unbiased data, clinicians can make better decisions to improve patient outcomes. Furthermore, AI can help identify trends and patterns by aggregating, analyzing, and inferencing massive amounts of patient data11 to discover biomarkers, genetic inclinations, and environmental factors that might contribute to various mental health issues.
How Ambiq Contributes 
Through the advanced Subthreshold Power Optimized Technology (SPOT®) platform, Ambiq powers these life-saving endpoint devices with optimized performance and battery power. Cutting-edge, innovative companies can rely on Ambiq's ultra-low power system-on-chips (SoC) solutions to build the next generation of AI-enabled mental health products.
Resources:
1 "Voice biomarker" tech analyzes your voice for signs of depression | October 2022
2 Symptoms of Anxiety or Depressive Disorder and Use of Mental Health Care Among Adults During the COVID-19 Pandemic — United States, August 2020–February 2021 | April 2022
3 National Institute of Mental Health – Mental Illness | March 2023
4 Undiagnosed depression: A community diagnosis | July 2017
5 How Voice Biomarkers and AI are Shaping the Future of Mental Health | February 2023
6 The State Of Mental Health In America | 2023
7 Kintsugi Health – Product | 2022
8 Sonde Health | 2023
9 Winterlight Labs | 2023
10 Ellipsis Health | 2023
11 Opportunities, applications, challenges and ethical implications of artificial intelligence in psychiatry: a narrative review | June 2023
Aug 02. 23