Ambiq Captures Three 2022 TITAN Business Awards
October 18, 2022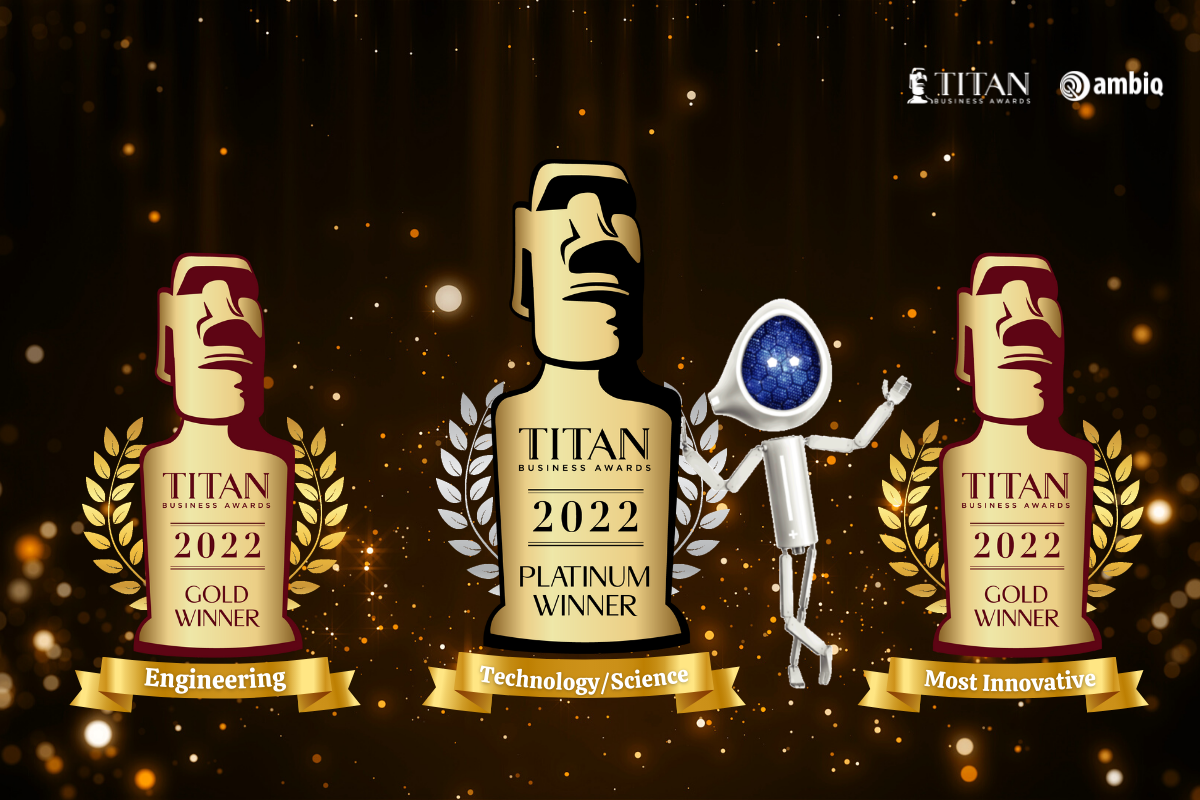 Ambiq® won three new awards in October from the International Awards Associate (IAA.) We received Platinum in Technology/Science and Gold in both the Most Innovative and Engineering categories. These recognitions are a true testament to Ambiq's contributions and successes in achieving energy efficiency critical to IoT endpoints, especially battery-powered mobile devices.
The highly regarded Ambiq Subthreshold Power-Optimized Technology (SPOT®) platform makes it possible to enable artificial intelligence (AI) everywhere by reducing the total power consumption of devices' operations without impacting or sacrificing performance and user experience.
"Ambiq's Engineering Team has been growing, and for over a decade, we have consistently delivered record-low-power technology platform and processor solutions for mobile devices," said Charlene Wan, VP of Branding, Marketing, and Investor Relations of Ambiq. "We are humbled and honored that our SPOT platform is recognized for its breakthrough performance and contribution to the semiconductor industry."
The TITAN Business Awards' primary goal is to acknowledge the achievements of entrepreneurs and organizations globally. The competition does not differentiate between small or big players in the market and honors excellence impartially on the level playing field they have created. Only those who qualify can become honorary TITANs.
"Despite this being the second season for this competitive year, we received a staggering number of entries, all of which demonstrated remarkable qualities of excellence," Thomas Brandt, spokesperson of IAA, remarked. "It is particularly motivating to see so many parties still actively engaging in excellent practices in their businesses. It really does come through clearly from their submissions."
About International Awards Associate (IAA)
IAA, established in 2015, is the organizer of the MUSE Creative Awards, MUSE Design Awards, MUSE Photography Awards, MUSE Hotel Awards, Vega Digital Awards, NYX Marcom Awards, NYX Game Awards, NYX Video Awards, TITAN Business Awards, TITAN Property Awards, LIT Commercial Awards, LIT Talent Awards, London Photography Awards, NY Product Design Awards, New York Photography Awards, and iLuxury Awards.
IAA's mission is to honor, promote and encourage professional excellence, from industry to industry, internationally and domestically, through award platforms that are industry appropriate. IAA assembled the TITAN Business Awards to bring attention to the international business industry and promote their strategies, cultures, and teamwork to the world. 
Read Article in: Japanese | Simplified Chinese | Traditional Chinese