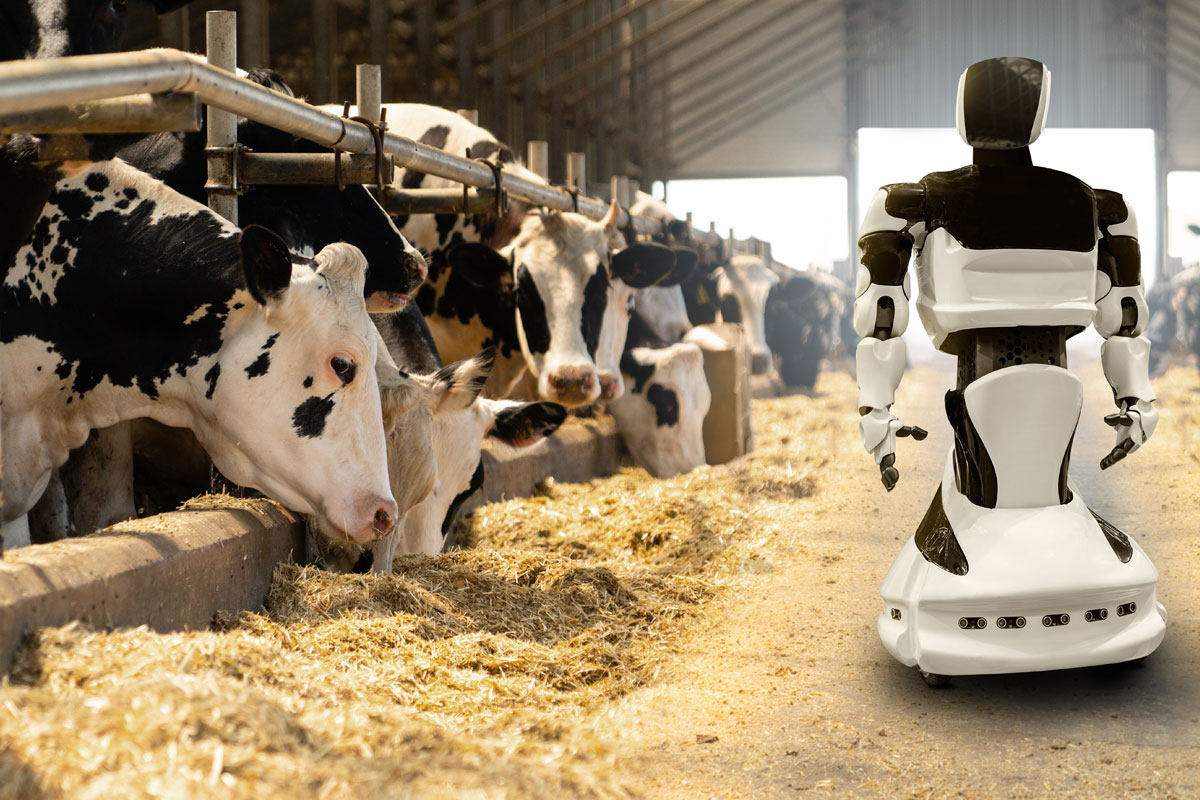 Animal farming is becoming increasingly data-centric, and animal welfare is paramount. As 9 billion people will need to be fed worldwide by 2050, the food supply has to keep up with the growing global population. While wearable technology and artificial intelligence for pets have permeated consumers' everyday lives, farm animals are also beginning to benefit. Animal husbandry is used for raising animals for meat, fiber, milk, eggs, and other products. With the use of artificial intelligence (AI), day-to-day care and livestock raising are becoming easier for farmers.
What Is Animal Husbandry?
To start, animal husbandry is the science of breeding and caring for farm animals. Animal husbandry includes the day-to-day care and quality of life improvements for these animals and selective breeding and raising. Animal husbandry revolves around cows, sheep, goats, chickens, pigs, and other farm animals.
Artificial Intelligence in Animal Husbandry
Like many other industries and use cases, AI in animal husbandry can improve environmental management, increase the animal's quality of life, improve resource allocation, and reduce costs. Farmers in animal husbandry are looking for new-age tools to improve animal welfare, increase efficiency, and create better production.
Ironically dubbed the "Internet of Animals" (IoA) as a parallel to the "Internet of Things" (IoT), AI can improve livestock management, providing insights for breeding and reproduction. It can be used when turning animals into human food during the butchering process, and it can give animal farmers a real-time look into the data and behavior of their animals.
For example, farmers use wearable AI devices to collect real-time data about their flocks and herds to make intelligent decisions. The wearables provide alerts when animals are sick, when it's time for vaccinations, or when they're ready for breeding. Here are several more examples of how AI is used in animal husbandry:
Dairy Farming
Dairy farming is an essential contributor to the food supply, and dairy farmers feel pressured to increase herds while reducing their carbon footprint. Add in the fight to combat rising costs and inflation, and dairy farmers are stretched thin. AI steps in to help with wearable technology for cows that uses sensors and algorithms to uniquely identify each cow based on behavior patterns or pinpoint cows ready for breeding. Moocall has identified 68,555+ heat sessions from cows that resulted in 1 million+ calves. mooON helps maximize herd performance by offering recommendations to enhance milk quality and quantity and improve farm management while reducing insurance premiums on cattle — all thanks to tracking the cows' behaviors.
Meat Farming
For industrial meat processors, AI works to improve living conditions for animals historically involved in "cheap farming." AI4Animals was developed to address welfare issues in slaughterhouses with real-time monitoring. SwineTech monitors piglets for distress and reduces piglet crushing by 31.37%. An automated facial recognition system was created to detect pain in sheep and quickly curb contagious diseases. New technology like e+v in carcass grading uses imaging to classify carcass information and fat class after slaughter.
Poultry Farming
Poultry drones can detect nutritional deficiencies and provide avian disease mitigation. Robots can help feed birds, collect eggs, and remove manure. AI-powered sound detection systems, like the software developed by Georgia university researchers, use machine learning to decode vocalizations and identify any warning signs of distress. AI monitoring can also detect growing patterns in poultry weight, allowing farmers to pinpoint unhealthy livestock.
Bee Farming
In an effort to curb the drastic dwindling of bee populations, AI sensors like Beehome uses precision robotics, computer vision, and AI to facilitate constant hive monitoring. This helps bee farmers remotely treat hives and care for their bees.
Aquaculture
Automated feeding systems like ReelAppetite AI reduce food waste and ensure fish eat an appropriate amount of food. Drones can track environmental changes and the quantity of fish and monitor systems for improving reproductive habitats like salmon nests. The CageReporter robot uses a proprietary underwater positioning system to check the conditions of fish farms; it has artificial intelligence-based algorithms that allow it to monitor the fish without disturbing them as a human diver might.
How Ambiq Contributes
In animal husbandry, all AI-enabled tools are powered by devices that require extended battery life and optimized performance. These devices must run 24/7, provide millions of data points on diverse animal species, and aggregate them in a way that farmers can understand. Microprocessors from Ambiq's Apollo Series allow these innovative devices to run continuously as they revolutionize animal husbandry and farming. See how Ambiq's game-changing products are shaking up a variety of industries, from agriculture to manufacturing to healthcare and more.
Apr 05. 23