Wearables
01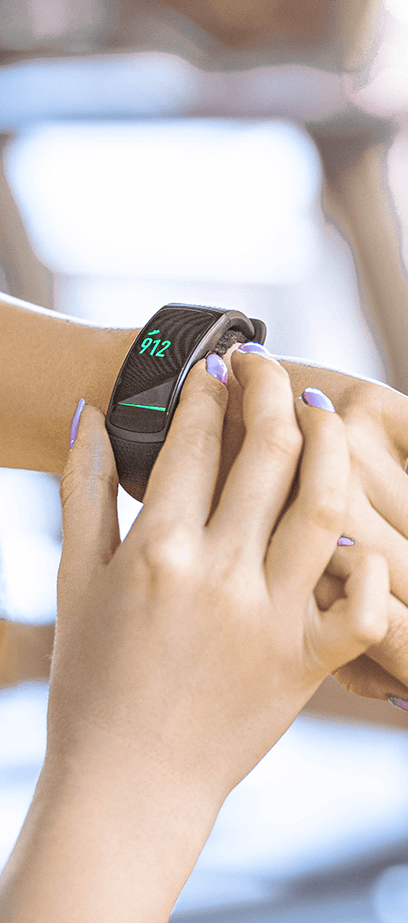 Highly integrated multi-protocol SoCs for fitness bands and smartwatches to run all operations, including sensor processing and communication plus inferencing within an ultra-low power budget. Wearable devices, mainly fitness trackers, heart rate monitors, and smartwatches, must be comfortable, fashionable, portable, and easy to use to keep up with growing consumer demands. As technology advances, wearable devices are also becoming smaller, smarter, more diverse, intuitive, and eco-friendly invented to improve our quality of life further.
Because the ability to integrate wireless communication with more sensors and computing power onto one tiny chip continues to rise, 451 Research predicated that the battery-powered endpoint devices will grow to 13.8 billion by 2024.
Among them, wearable devices will be one of the key drivers in setting the stage for future technologies to follow, propelling the entire IoT industry to look into new ways to realize the ultimate goal of an intelligent, connected world.
The latest wearables give us a glimpse into the possibility of what the future holds. A brain sensing headband; a real-time location tracker for your kids, or pets; a multi-function smartwatch that can last for up to 21 days on one charge; a smart ring with Alexa; or another kind of smart ring to help track vitals 24/7 for contact-tracing in the pandemic era. The sky is indeed the limit.
Since both endpoint and wearable devices are by definition powered either by the battery, disposable or rechargeable or through energy-harvesting, they must use energy-efficient components and algorithms to be sustainable. Along with power efficiency, design and form factor are crucial for creating effective wearable devices that increase our productivity, improve our health, and enhance our lifestyle.
At the heart of each device is the Ambiq® patented Subthreshold Power Optimized Technology (SPOT®) platform, which dramatically reduces energy consumption without compromising performance, quality, or functionality. Tens of millions of wearables are benefiting from Apollo and Apollo Blue system on chips by gaining the flexibility to increase battery life, add more complex intelligent processing dramatically, and use smaller batteries or unique power supplies.