5 Noteworthy Trends in Wearable Technology
In just a few years, wearable gadgets have become an essential part of our everyday lives. From smartwatches, fitness trackers, to personal medical devices, it seems like wearable technology can serve many purposes, such as increasing our productivity, improving our health, and ultimately enhancing our quality of life.
Thanks to the increase in demand for wireless wearable devices, the wearable market has been quickly expanding in recent years. The number of connected wearable devices worldwide was 526 million in 2017. That number is projected to double by 2022.
Increasingly, wearable devices can integrate multiple wireless communications protocols with Bluetooth Low Energy being the most prevalent one. In fitness and healthcare, wearables have made a big splash as these devices can leverage Bluetooth radio, with relative ease-of-use, to monitor vital data in real-time and transmit that data to other smart devices. The ever-expanding network of wirelessly connected devices becomes the bedrock of the Internet of Things (IoT), helping us come closer to realizing the vision of an intelligent, connected world. In this post, we'll examine five noteworthy trends in wearable technology that you may not be aware of.
More Ear-Worn Devices
Smartwatches and fitness trackers usually come to mind first when the topic of wearable technology comes up. However, hearable technology is quickly on the rise. Pioneering earbuds, like the Amazon® Echo Buds, was intended to seamlessly interact with smartphones and other IoT-enabled devices, giving users a more immersive and intuitive environment where devices stay on 24/7. Increasingly, users want an intelligent earbud that can not only amplify sound, but also sync with wireless devices like their smartphone for functions like calls, music, and gaming.
With the advance in digital signal processing (DSP) technology creating more efficient batteries and better Bluetooth® range, the conventional hearing aids are also going through a seismic change that is driving a convergence between wireless earbuds and hearing aids. An estimated 86 percent of people who would benefit from hearing aids do not get them, primarily because of their high cost. Since the passage of the Over-the-Counter Hearing Aid Act of 2017, the Food and Drug Administration (FDA) has been working with consumer advocacy groups as well as technology sectors to create regulations for a new category of hearing aids to be made available over the counter (OTC) Soon, there will be a new option for adults with mild to moderate hearing loss to obtain affordable hearing help via new devices with both modern design, and advanced functionality. Say goodbye to days where people avoid wearing hearing aids because of the stigma associated with the design and functionality of the traditional hearing aids, as well as their astronomical costs.
More Smart Clothing and Accessories
As wearable technology evolves beyond devices that we strap to our wrist, it will extend to smart clothing. Intelligent clothing products are already available, including socks that measure how you walk or run to recommend tips to smart swimsuits that send an alert when the wearer's UV levels are too high.
Other notable wearables in the smart clothing category include a brain-sensing headband, a necklace for stress reduction, smart fabrics for sports coaching and physiotherapy, as well as various smart personal accessories. For example, an Alexa® smart ring can help us navigate our everyday lives easier, while other types of smart tags or COVID cards, can help track a person's vitals 24/7 for contact-tracing in the aftermath of the pandemic.
More Head-Mounted Displays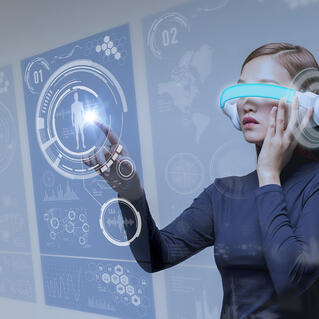 The future of wearable technology includes head-mounted displays (HMDs) that will incorporate Augmented Reality (AR) and Virtual Reality (VR) into our everyday lives. The potential benefits are especially tremendous for AR HMD devices because they will allow users to simultaneously interact with digital information, and the real-life environment that surrounds them. However, for AR/VR solutions to meet consumer needs, they must overcome challenges like battery life, computer vision, latency, and pixel density beyond 4K—all on a fixed, 2-watt to 3-watt thermal budget.
Some of the most promising AR HMD projects include Magic Leap's Magic Leap® One, touted as a "wearable spatial computer," and Microsoft®'s "immersive, ergonomic, instinctual, untethered" HoloLens® 2, which both have a range of potential applications in enterprise and consumer contexts. Additionally, Facebook Reality Labs (FRL) is working on holographic optics by taking an approach that could develop "future sunglasses-like VR hardware." With AR/VR wearables becoming more lightweight and comfortable, they can be used for other purposes such as gaming. As the gaming experience moves from PC-based to mobile-based, AR/VR tech can create a more immersive and personalized mobile gaming experiences.
More Processing, Longer Battery Life
Thanks to improved System on Chips (SOC), today's wearables have more processing power and longer battery life. That means they can handle more complex tasks that would typically consume a lot of power, such as always-on voice command, richer graphics and display, more functionalities, or running artificial intelligence (AI) for faster decision-making. While devices previously only lasted a few days, some multi-function smartwatches, such as the latest Oppo Watch, can now last up to 21 days on a single charge.
Whether a wearable device runs on a disposable or a chargeable battery, it must use energy-efficient components and algorithms to be sustainable. That's why manufacturers and designers are looking for ultra-low-power SoCs—such as Ambiq's Apollo and Apollo Blue products—to increase battery life, add more complex intelligent processing, use smaller or lesser batteries and without sacrificing the overall user experience.