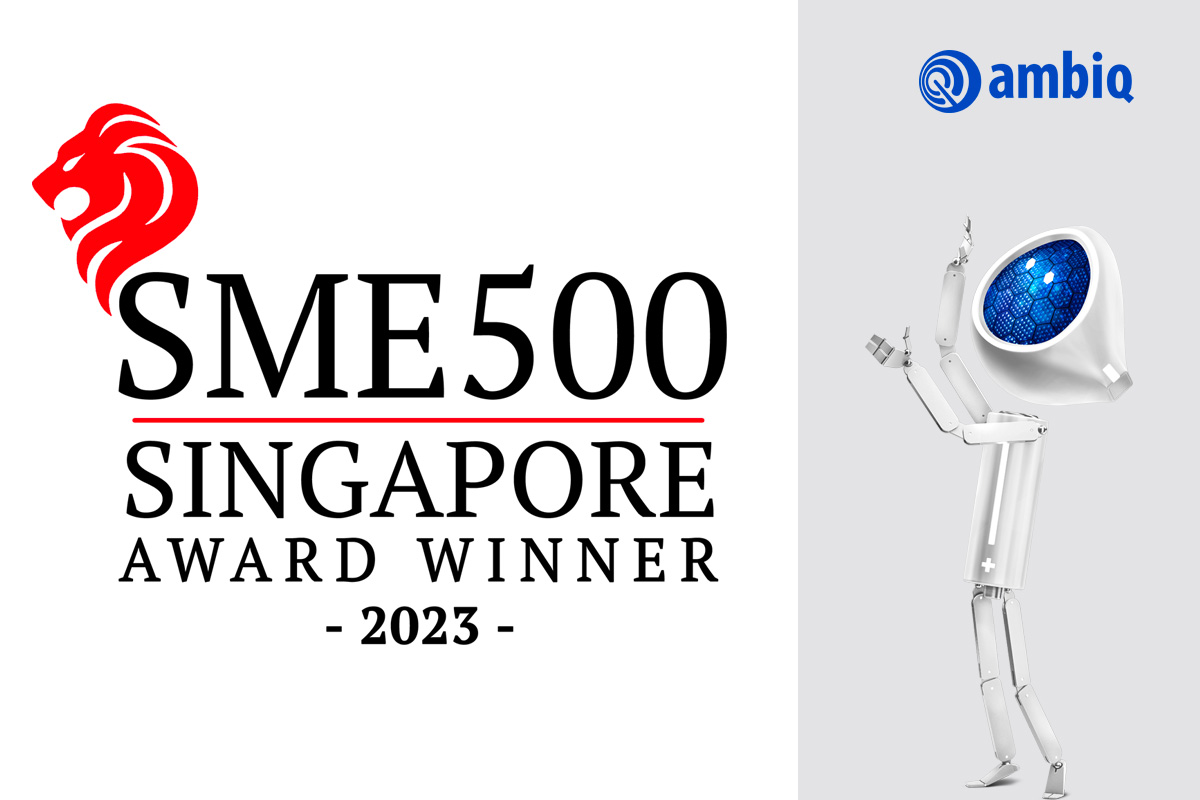 SINGAPORE – Ambiq®, a leading developer of ultra-low-power semiconductor solutions that deliver a multifold increase in energy efficiency, is pleased to announce it has been named a recipient of the Singapore SME 500 Award 2023. Overseen by Singapore's Association of Trade & Commerce (ATC), the SME 500 Award is one of the country's most esteemed business accolades.
Ambiq's family of cutting-edge products includes a diverse collection of system-on-chips (SoCs), enabling sophisticated computing, sensing, Bluetooth® connectivity, advanced graphics, and AI processing – all at a small fraction of the power consumed by other products. Over 200 million IoT devices, including wearables, hearables, always-on voice-command remote controls, gaming controllers, smart home security, advanced industrial automation, and medical devices, are using Ambiq at the core of their products.
Ambiq recently announced plans to expand its technology design center in Singapore, launched in April last year, to meet rising demands and further enhance its circuit design capabilities. As part of this expansion, Ambiq is actively recruiting regional talents to bolster its team and support its global expansion.
"As Ambiq continues to diversify and grow its global business, our commitment and investment in Singapore continue to be crucial to our success," said Fumihide Esaka, the chairman and CEO at Ambiq. "We are incredibly honored to accept this award from the Association of Trade & Commerce as it affirms our business standards, qualities, and performance."
The Singapore SME 500 Award recognizes local enterprises for business excellence, qualities, and capabilities. The stringent assessment process evaluates quantitative and qualitative performance, as well as the company's abilities and resources to further develop globalization.
About Ambiq
Ambiq's mission is to develop the lowest-power semiconductor solutions to enable intelligent devices everywhere by developing the lowest-power semiconductor solutions to drive a more energy-efficient, sustainable, and data-driven world. Ambiq has helped leading manufacturers worldwide develop products that last weeks on a single charge (rather than days), while delivering a maximum feature set in compact industrial designs. Ambiq's goal is to take Artificial Intelligence (AI) where it has never gone before in mobile and portable devices, using Ambiq's advanced ultra-low power system on chip (SoC) solutions. Ambiq has shipped more than 200 million units as of March 2023. For more information, visit www.ambiq.com.
About the Association of Trade & Commerce (Singapore)
The Association of Trade & Commerce (Singapore) is a community organization that was established to represent and champion for the interests of Singapore enterprises, and to bridge their social compact, promoting an inclusive and compassionate society. For more information, visit https://atc.sg.
Contact
Charlene Wan
VP of Branding, Marketing, and Investor Relations
cwan@ambiq.com
+1.512.879.2850
Read Article in: Japanese | Simplified Chinese | Traditional Chinese