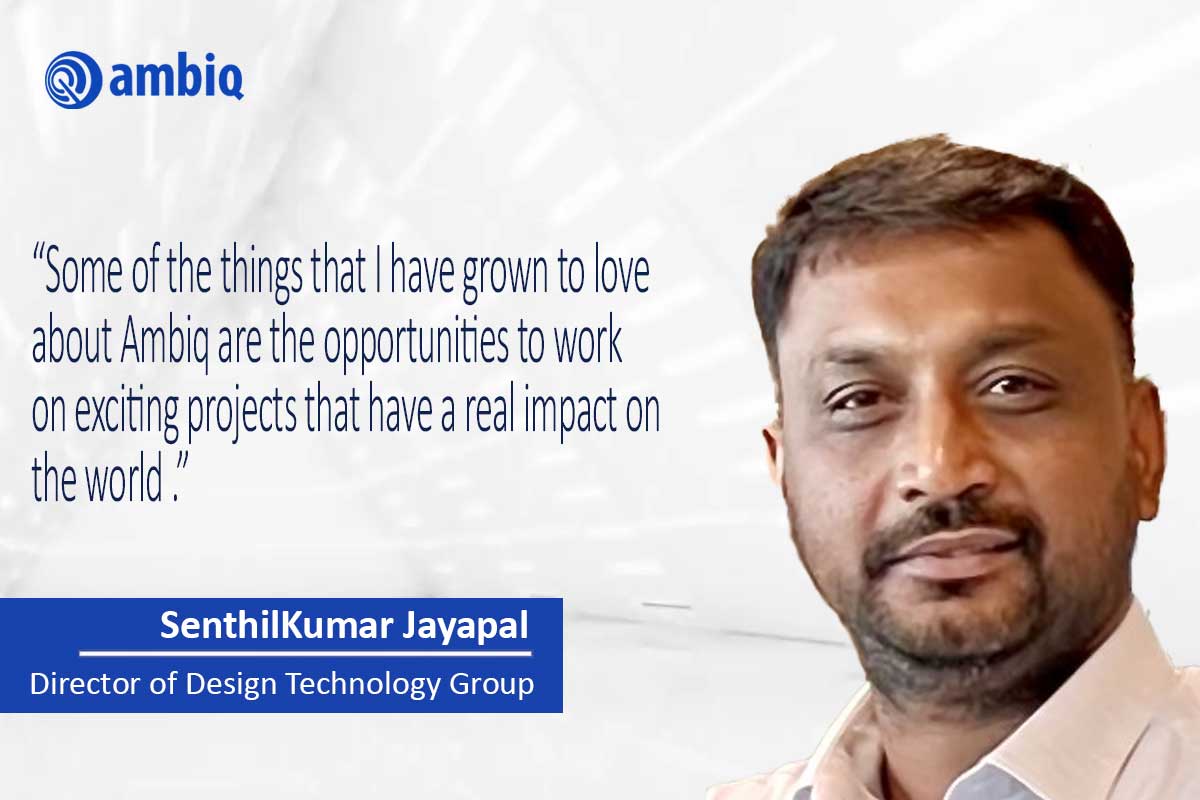 In this blog post, we'll turn our spotlight to SenthilKumar Jayapal, the Director of Design Technology Group at Ambiq Singapore. Born and Raised in Tamil Nadu of South India, SenthilKumar now lives in Singapore, where he leads Ambiq's SPOT design team. He received his Ph.D. in Electrical Engineering from the Department of Microsystems Engineering- IMTEK, University of Freiburg, Germany.
His research focused on creating wireless sensor nodes on a chip to be more energy efficient. That's when he discovered that he could leverage novel sub-threshold circuits and ultra-low voltage designs to generate the desired result. It seems that SenthilKumar's destiny to join Ambiq eventually was sealed back then.  
We recently sat down with SenthilKumar to get to know him a bit better and understand his role at Ambiq.
How long have you been with Ambiq? 
I recently celebrated my one-year anniversary with the company, having joined Ambiq Singapore on September 19, 2022.
Tell us about your work (what you do, with whom you work, what you find enjoyable, and what you find challenging?)  
As the leader of the subthreshold power-optimized technology (SPOT) design team in Singapore under the CTO office, I work with diverse team members from different disciplines across multiple sites. The mission and vision of our group is to transform the future of the SPOT design methodology through advanced technology innovation. We focus on developing the SPOT design flows, methodologies, and signoff criteria by exploring new logic/memory design technologies, pushing boundaries, and driving innovation.
Internally, we work closely with the Architecture and Product Planning (APP) and Engineering teams. Externally, we collaborate with foundry and electronic design automation (EDA) vendors to enable advanced SPOT methodologies for our new products. I enjoy the diverse range of challenges I face daily and the opportunities for cross-team collaboration. The work can be challenging at times, but this keeps it interesting.
What is your favorite professional or personal achievement? 
In just one year, I successfully built a team from scratch, growing it to four members. I also worked closely with HR and IT teams to improve our onboarding and IT procurement processes.
Tell us about a few of your favorite things. 
When I am not busy working on SPOT for more breakthrough innovations, I enjoy spending time with my two daughters, playing chess and badminton together. l enjoy exploring the diverse culture and cuisine of Singapore. I also have a love for music. No specific preference for any genre or style of music, just as it suits my moods. I like to listen to spiritual lessons for meditation and reflection. Additionally, I make it a habit to go for a brisk walk of around 5km almost daily except Sundays. Those are my rest days.
Why did you join Ambiq? 
I joined Ambiq because I have a passion for developing ultra-low power methodologies, and Ambiq's SPOT platform was particularly appealing to me. I have been following Ambiq for the past 10 years, as the work of its founder and CTO, Scott Hanson, Ph.D., is closely related to my own Ph.D. research. When I learned that Ambiq was establishing a presence in Singapore, I saw it as an opportunity to showcase my skills to Scott Hanson. Thanks to Dan Cermak, I was given the chance to do so and ultimately joined Ambiq.
What recent project has made you most excited?  
A recent project I am working on is the new 12nm Mackinac project. We started this project with a blank slate. We built almost everything from scratch with our small team able to enable back-end infrastructure from the ground up by closely working with our Foundry and EDA partners. We are very excited about this project as it's the first 12nm digital chip we're building under the guidance of our CTO, Scott Hanson.
What do you love about Ambiq the most?  
Working at Ambiq has been a rewarding and enriching experience for me. Some of the things that I have grown to love about Ambiq are the opportunites to work on exciting projects that have a real impact on the world. The potential of the SPOT platform and how it can enable new applications and innovations in various domains, such as wearable devices, smart home, industrial IoT, and more still amazes me.
I admire the passion and dedication of Ambiq's leadership team, who have a vision and strategy for the company's future. They are always open to new ideas and suggestions from the employees and encourage us to pursue our goals and interests.
The flexibility and autonomy that Ambiq offers are things I appreciate. There's trust and respect for employees, allowing us to work at our own pace and style. This structure allows us to deliver quality results.
What do you think makes Ambiq stand apart from our competitors? 
Our SPOT technology is exceptional. However, it's our commitment to providing an outstanding customer experience that truly sets us apart.
Why is Ambiq a great company to work for in general? 
Ambiq is a highly regarded company to work for, as it offers its employees opportunities for professional growth that match their positions. Ambiq fosters a work environment that encourages clear and honest communication of ideas while respecting the opinions of others.
Ambiq values meaningful work and encourages its employees to be true to themselves. The company promotes a diverse and inclusive workplace where collaboration, innovation, and a drive for positive change are at the forefront of everything they do.
Would you recommend Ambiq to your family and friends?  If yes, why?  
Yes, Ambiq is a great company to work for. Working here has been a transformative experience for me that changed my expectations of myself and my career. I have learned new skills, gained new knowledge, and faced new challenges that have pushed me beyond my comfort zone and made me grow as a professional and as a person.
What and where do you hope to see Ambiq in 5 years?  
We will continue to grow and innovate over the next five years. Recently, Ambiq announced the expansion of its technology design center in Singapore, a show of real and tangible commitment to its future. Ambiq is known for its Apollo family of system-on-chip (SoC) products, which offer the lowest power consumption on the market. We will continue to develop and improve these products, as well as introduce new ones to support our Go-Wide strategy. In five years, Ambiq may have a larger global presence. The company may also have a wider range of products that push the boundaries of low-power and high-performance computing for edge AI devices.
About "We Are Ambiq"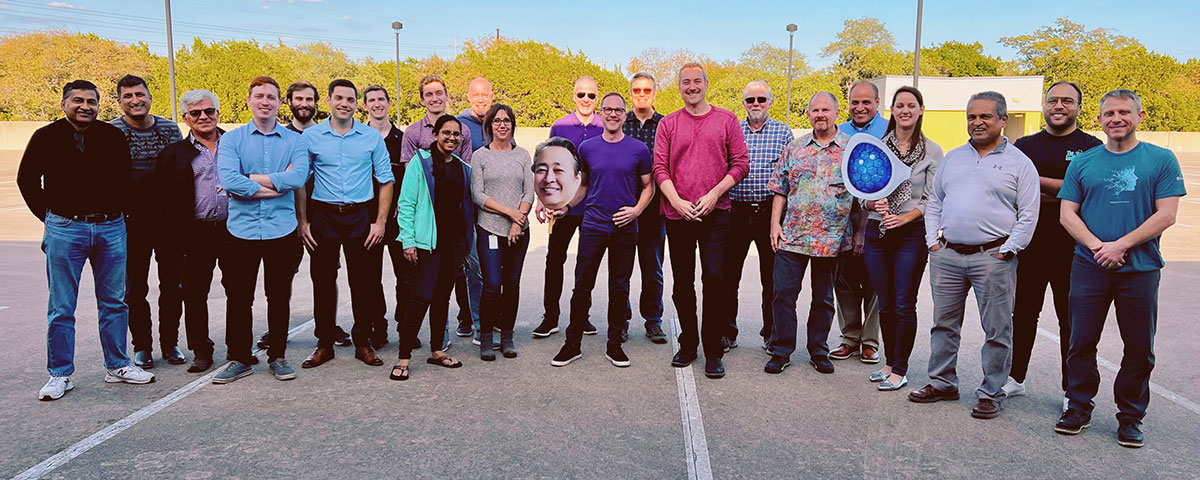 Ambiq is an innovative technology company with a culture where employees are encouraged to bring new ideas and challenge the norm. Employees are not only empowered to break new ground but are inspired to be creative and be themselves. We take workplace equality, diversity, and inclusion (EDI) seriously and embrace people from different cultures and ethnicities to help us innovate and grow. 
Ambiq is the industry leader in ultra-low power semiconductor platforms and solutions for battery powered IoT endpoint devices. From Austin to Shanghai, Shenzhen to Singapore, our global team members are shaping the future with their diverse ideas, talents, experiences, and backgrounds.  
Nov 08. 23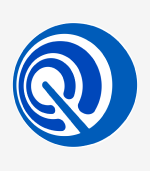 Written by
Ambiq Editorial Team