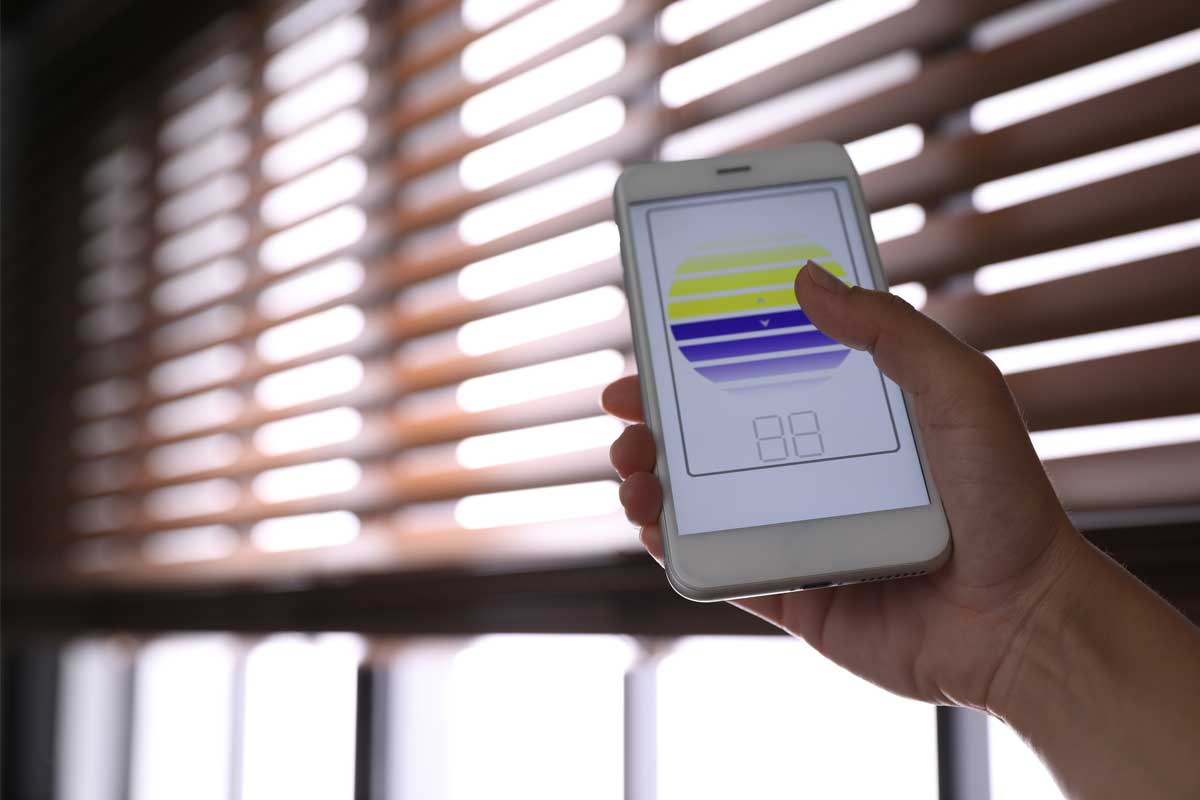 With intelligent, connected devices becoming more affordable and easier to use, it looks like smart homes are here to stay. Thanks to the evolution of both artificial intelligence (AI) and the Internet of Things (IoT), smart home automation can save you around 30 minutes daily, equivalent to 182.5 hours each year. Plus, these smart gadgets can make your life easier and make your home more eco-friendly and promote smarter living. With so many smart home options available these days, we've put together a helpful selection of the top choices for every room in your house.
Bedroom
There are plenty of ways to make the bedroom smart, starting with a "connected" bed. Smart beds use technologies, including multiple sensors for heart rate, breathing rate, motion, temperature, and more, to self-adjust to improve your comfort and quality of sleep based on the data they collect and analyze during your sleep. The Sleep Number 360° Prewarms the bed before you get in, lets you pick the firmness of your choice for each side of the bed, and automatically adjusts to changes in sleeping position. It also records a sleep score that's sent to your phone daily.
There are also smart pillows like the REM-Fit ZEEQ that can track your sleep pattern, stream audio, and music, regulate your temperature, help stop snoring, and even wake you up in the morning.
If you don't like getting out of bed to adjust your curtains or blinds, smart blinds can do all the work for you. For example, you can pre-program the Bluetooth®-enabled MySmartRollerShades to open and close when you want. They are also solar-powered, so there's no need to worry about hardwiring them or replacing batteries. You can also connect them to your home virtual assistant to make them voice-activated.
Nursery
Transforming your baby's nursery into a connected smart room has never been easier.
For example, when it comes to keeping a watchful eye (and ear!) on your infant, the popular NanitPro Camera lets parents see and hear everything happening around the crib in real-time. Plus, the device's smart technology analyzes sleep patterns to help parents learn how to improve their child's sleep quality. Combine the monitoring system with Nanit's sleepwear, and you can even track your child's temperature and breathing activity.
Incredibly, even the traditional diaper-changing pad has had a smart makeover! Parents can use the Hatch Baby Grow Smart Changing Pad and Scale for much more than just changing a dirty diaper. The battery-operated device connects to a smartphone via Bluetooth, allowing moms and dads to track and record their baby's weight and measure fluid intake.
Bathroom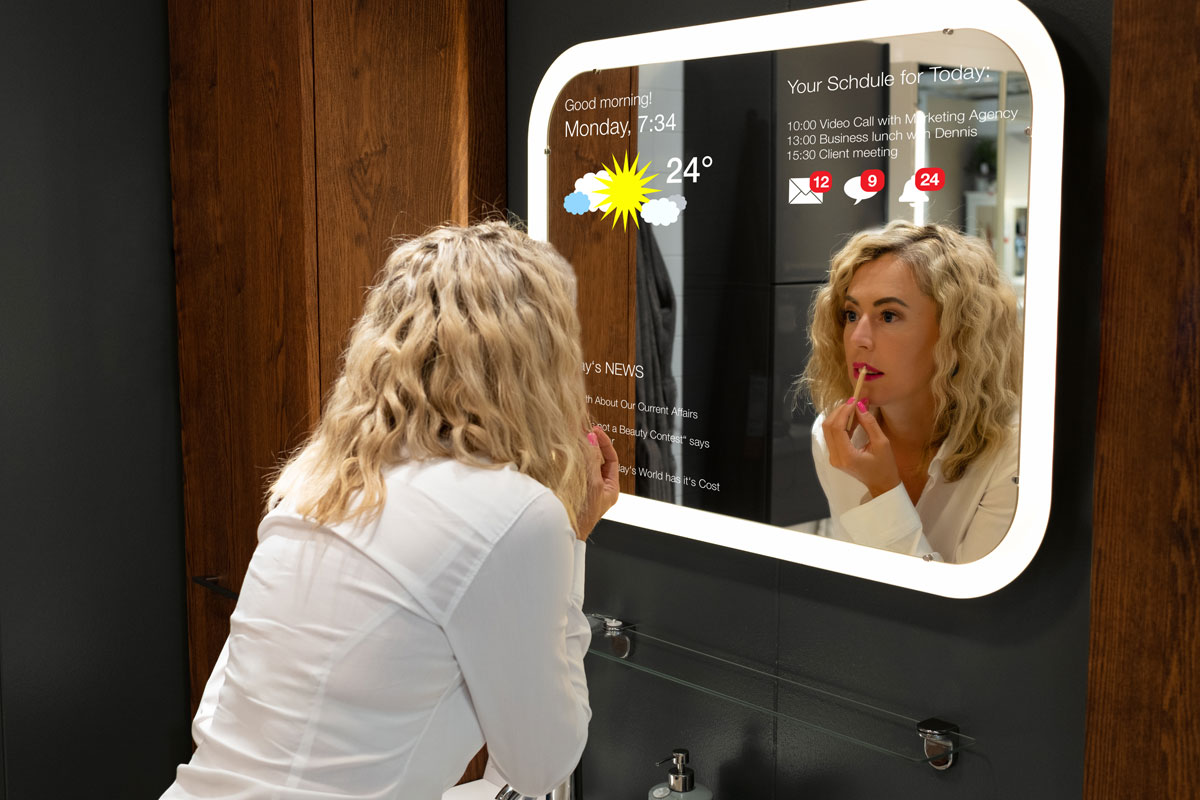 With over 52 million smart homes in the U.S., smart bathroom technology is becoming increasingly popular – and there is no shortage of products to choose from.
For instance, an interactive LED mirror like the Capstone Smart Mirror has a built-in display that can show reminders, the time and date, weather, traffic reports, appointments, and reminders. You can catch up on your favorite YouTube videos and read your email!
Smart showers allow you to customize your shower routine, from setting specific temperatures, to how long you want the shower to run. One great option is the Moen TS3302TB, which can be voice controlled through your phone or a wall-mounted digital controller and notify you when the water is just the right temperature. Not only are smart showers convenient, but they're also an excellent safety option for preventing accidental scalding.
Kitchen
It's no secret that meal preparation takes time, energy, and effort. But smart technology is transforming almost everything we do in the kitchen.
While coffee machines have already transformed how we make coffee at home, connected coffee machines like the Siemens EQ.9 plus connect s700 mean that you can start making your coffee from your tablet or phone. There are also voice-activated intelligent coffee machines that can pair with smart home assistants, so all you need to do is ask for a coffee, and the machine takes care of the rest.
Once you've started using a smart refrigerator, you'll wonder how you ever lived without one. The accompanying app lets you see what's inside your fridge in real-time while at the grocery store, look up recipes, and sync it with your other smart IoT devices. You can control the Samsung Bespoke French Door Refrigerator with Family Hub with your TV, computer, phone, smart doorbell, and other Samsung home appliances. The Family Hub even lets you search for recipes based on what you have inside and then send cooking instructions to your Samsung smart oven.
Speaking of smart ovens, they can transform how you prepare and cook meals, thanks to state-of-the-art hearing technology and intelligent sensors. Ovens like the Whirlpool Smart Range can be paired with a smart thermometer to remotely set the oven temperature, keep an eye on how your dish is cooking, and notify you when the cooking is complete. You can also command these electronic devices by voice, making it easy to multitask.
Living Room
Whether you use your living room to entertain guests, relax, watch TV, or catch up with your family after a busy day, there are plenty of ways to make this room smart.
Ceiling fans have evolved over the years to become smart fans that give you maximum control over your home's climate. The Haiku Home L Series 52″ Smart Ceiling Fan has seven speeds (including a "whoosh" mode), a timer, eco mode, and integrated LED lights with 16 brightness settings. For control, you can use various devices, including remote control, smartphone app, or smart home assistant/speaker.
Thanks to the IoT, you don't need to get up from the sofa to change the lighting. Voice-controlled light bulbs, like Boxlood WiFi Smart Bulbs and Philips Hue Personal Wireless Lighting, work with smart home assistants and partner apps to enable you to set lights to suit your schedule or mood. 
Finally, today's smart speakers can do much more than just play music on demand. With voice, you can easily stream your favorite tunes and podcasts, create a shopping list, set timers and alarms, use it as an intercom, and even find out the latest news and sports scores. Devices like the Sonos One smart speaker can also control your other smart home devices and double as a home security camera or video doorbell chime.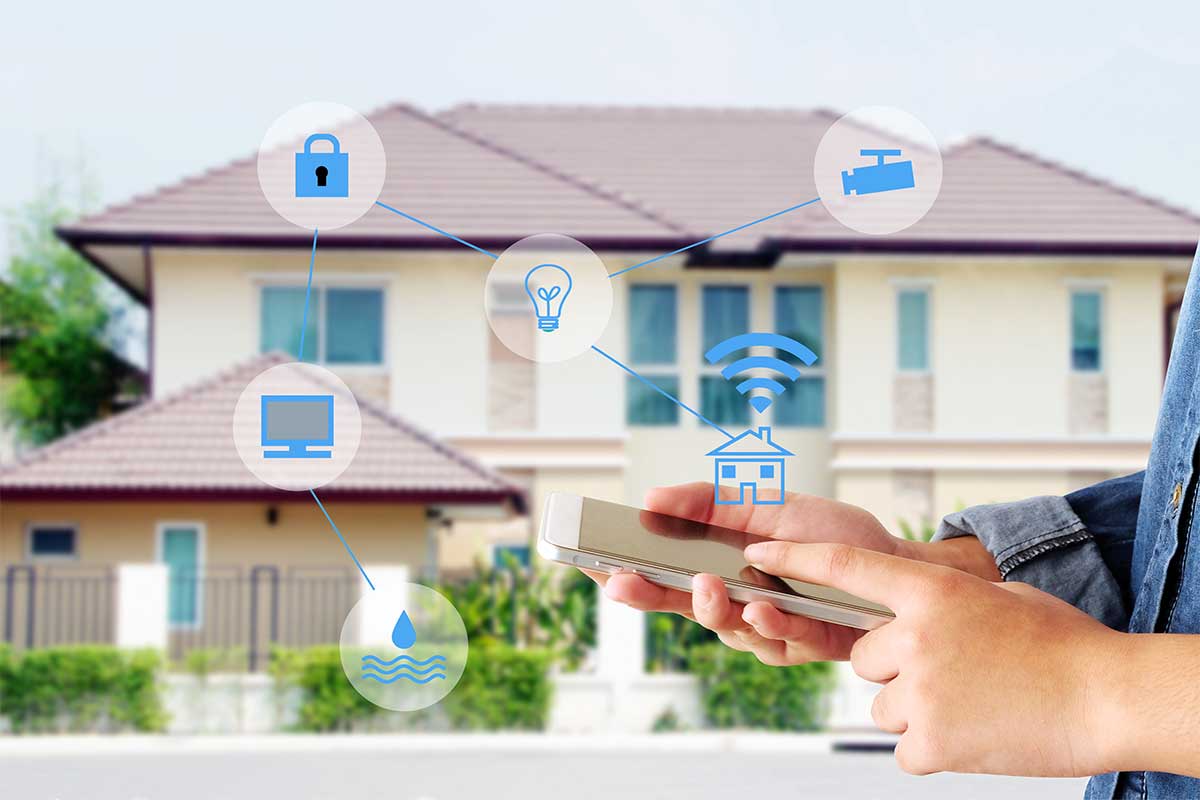 How Ambiq Contributes
Ultra-low power SoCs from Ambiq® can support key technologies required by connected homes and smart buildings, such as Bluetooth Low Energy. Indeed, our products are at the heart of millions of endpoint devices that are the building blocks of the IoT world and smart building management.
Built on our patented Subthreshold Power Optimized Technology (SPOT®) platform, Ambiq's products reduce the total system power consumption on the order of nanoamps for all battery-powered endpoint devices.
Dec 28. 22