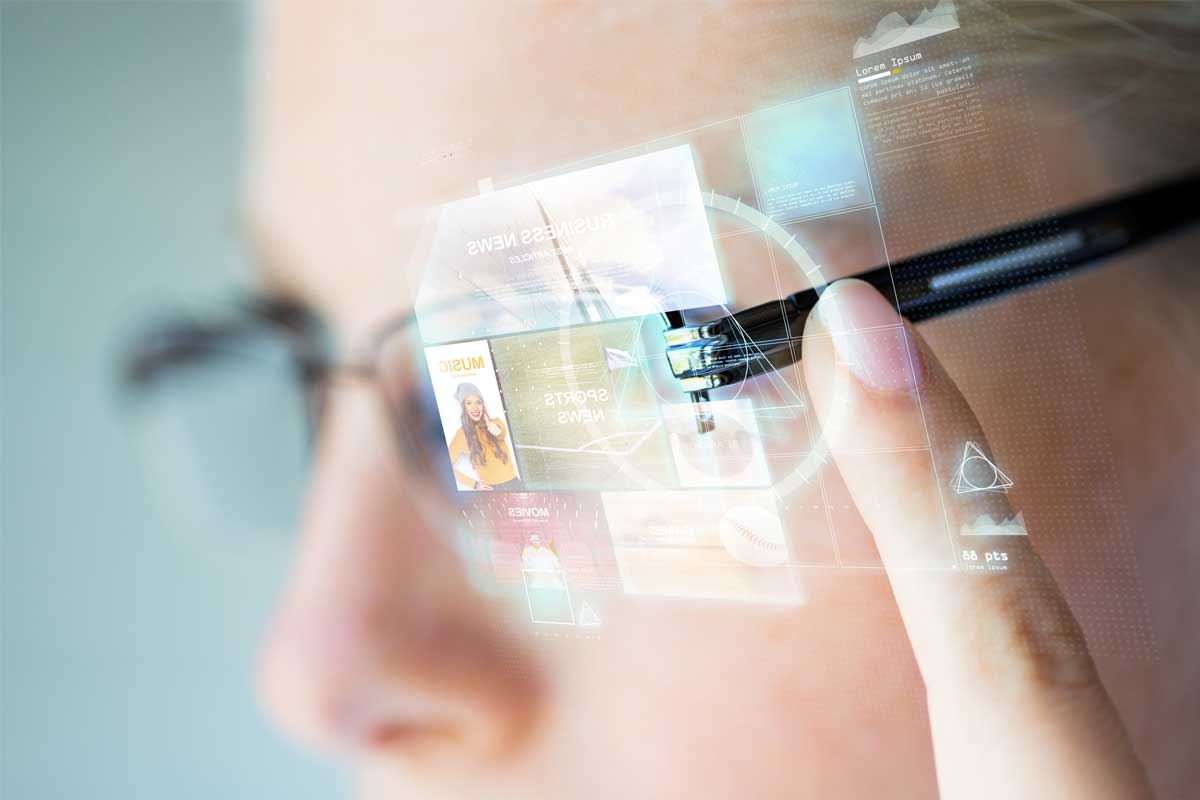 Smart Glasses have been around for a decade since the introduction of Google Glass. But since Google's inception, manufacturers have been working to change how users see with smart glasses and hear. Thanks to technological innovations, smart glasses are now adding speakers and microphones to the frame, which has applications from listening to music, enhancing your entertainment, and helping users with hearing impairments. 
How Smart Audio Glasses Work
Smart Glasses with speakers and microphones, otherwise called smart audio glasses, are like combining your wireless headphones with your glasses. They connect to your phone or smart device via Bluetooth ® so you can play your favorite music or podcasts.
The speakers are built into the frame around your ear. This projects sound directly to your ear, allowing you to listen to audio without disturbing others.
Because of the open design, instead of inserting an earbud or covering your ears with headphones, you can still hear the world around you. While this may sound like a hindrance, there are many reasons why this could be useful.
Imagine going for a stroll through the city, walking in the woods, and listening to your favorite podcast. Users can retain situational awareness of moving cars or the snapping branch sound of an animal in the woods. This can make users feel comfortable, safe, and connected to what's happening around them.
Use Cases for Audio Glasses
Whether you use audio glasses to listen to a podcast in the park, talk on the phone, or relax with music, there's a style and fit for everyone. Here are some of the ways companies are enhancing sound with smart glasses.
Bose Frames Tempo
Bose is one of the leaders in sound for home entertainment, speakers, and headphones, so their pair of Audio Sun Glasses called the Bose Frames Tempo 1, only made sense. The Tempo allows users to listen to music or podcasts while enjoying their favorite outdoor sports. They have an open audio design perfect for cyclists who want to listen to their playlist while keeping an ear out for their surroundings. They are water resistant, so users won't have to worry about breaking a sweat and ruining their audio.
Ray-Ban Stories
The iconic brand Ray-Ban knows what's cool, so they teamed up with Meta to create the stylish Ray-Ban Stories 2, a set of smart glasses that allow users to listen to music, live stream videos, take and upload photos and videos straight to their Facebook or Instagram account. In October 2023, The Ray-Ban Stories debuted their next iteration of the smart glasses, taking user feedback to improve audio sound for higher volumes, bass, and less audio leakage, even in noisy environments.
Smart Glasses for Hearing Loss
Besides entertainment, audio glasses make a strong case for transforming how those with hearing impairments use hearing aids. The World Health Organization reports that 430 million people have some form of hearing loss and estimates that by 2050, that number will reach 2.5 billion people 3. Some manufacturers are utilizing the speakers and microphones in smart audio glasses for this new purpose. 
Oculadio
The Norwegian company Oculadio 4 is developing a patented pair of audio glasses built as an alternative to hearing aids. The Oculadio uses 16 built-in microphones and a front HD camera that uses algorithmic facial recognition to detect when someone is speaking to you and amplify their voice while cutting the background noise of other conversations around you. The Oculadio was designed as a stylish and discreet alternative to traditional hearing aids.
Xander
While not audio glasses that project sound, start-up company Xander 5 enhances sound with their pair of smart glasses that capture speech and create subtitles that appear behind the user's lens. The Xander glasses use noise-cancelling microphones to convert speech to text. This appears as subtitles behind the lens via augmented reality. The speech-to-text technology is built into the glasses, so users don't need to rely on a strong service connection or smartphone to use it. This visual aid will help enhance how those with hearing loss communicate even if they wear hearing aids.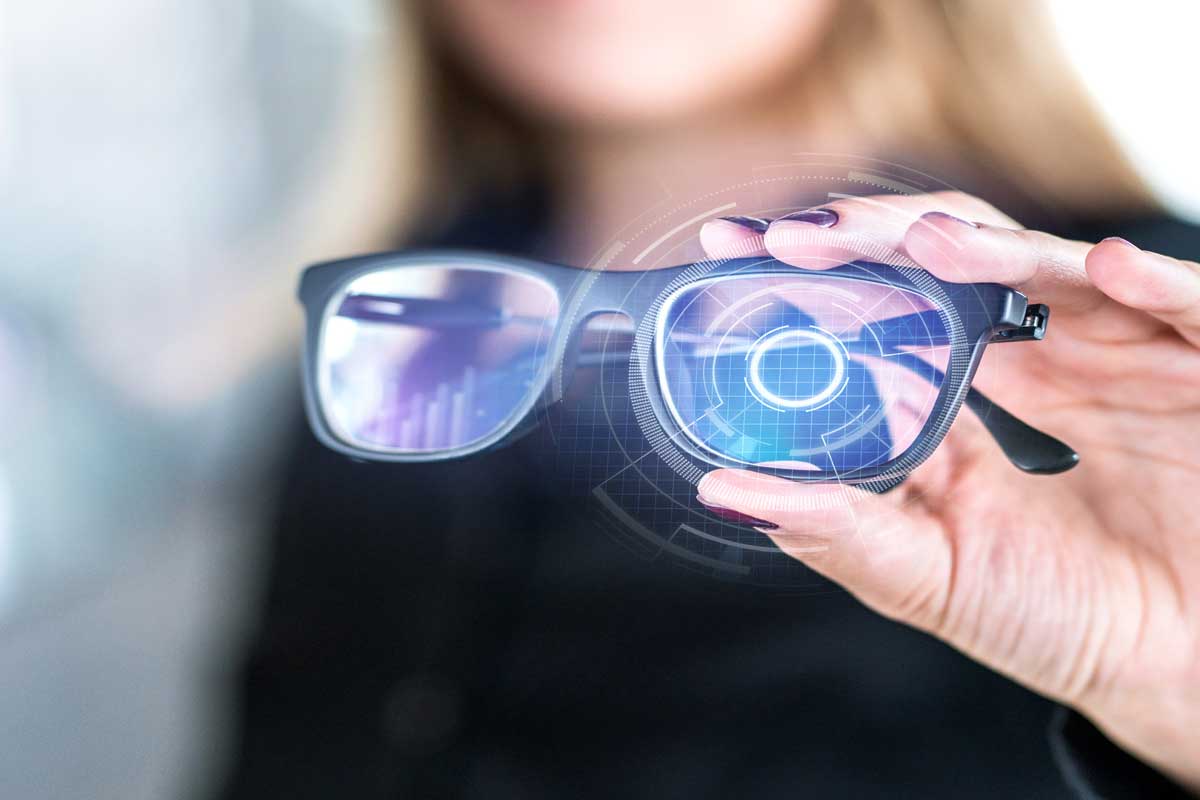 Limitations and Concerns with Smart Audio Glasses
While a pair of audio glasses can feel exciting and innovative, it is an emerging technology that can only be improved with time. The open-ear design means you will not be as immersed in whatever you're listening to as you would with noise-cancelling headphones. Smart glasses are also limited by battery life, so if you use them often throughout the day, expect to run through the power.
Users also have privacy concerns about smart audio glasses. Will the built-in microphones record conversations, or will others be able to hear what they are listening to? Many manufacturers promise security with their audio glasses. Still, the privacy concerns that Google faced 6 with their smart glasses may have tainted the perception of smart glasses and the user's willingness to adopt this technology. Despite these concerns, manufacturers are doing their best to address these issues and create a secure and excellent experience for all.
The Future of Smart Audio Glasses
Smart audio glasses add a great function to the already exciting innovation of smart glasses. Advancements will keep making it sound better for users and even be able to assist those with hearing impairments. Smart audio glasses will have the potential to be on par as an everyday item in the way smartwatches are.
How Ambiq is Contributing
Smart audio glasses that analyze the user's environment and adjust the sounds to create a more personalized experience can take a lot of power. If you use the features of smart audio glasses a lot, you may just be using them as regular glasses by the end of the day.
Ultra-low power systems-on-chip (SoC) like the ones from Ambiq were designed to give smart device manufacturers more flexibility to create high-performing, feature-rich products that utilize up to 10X less power than conventional circuit designs. Our patented Subthreshold Power Optimized Technology (SPOT ®) platform can help wireless and lithium-powered devices go days, weeks, and sometimes months on a single charge. The next wave of smart audio glasses looks brighter with Ambiq.
References
1 Sport Bluetooth Sunglasses (bose.com) | 2023
2 Introducing the New Ray-Ban | Meta Smart Glasses | Meta (fb.com) | September 27, 2023
3 Deafness and hearing loss (who.int) |February 27, 2023
4 Oculaudio – TOGETHER WE ARE CHANGING THE HEARING AID FOREVER | 2023
5 XanderGlasses | 2023
6 As smart glasses come back into focus, privacy risks fog the lens | S&P Global Market Intelligence (spglobal.com) | April 15, 2021
Oct 18. 23