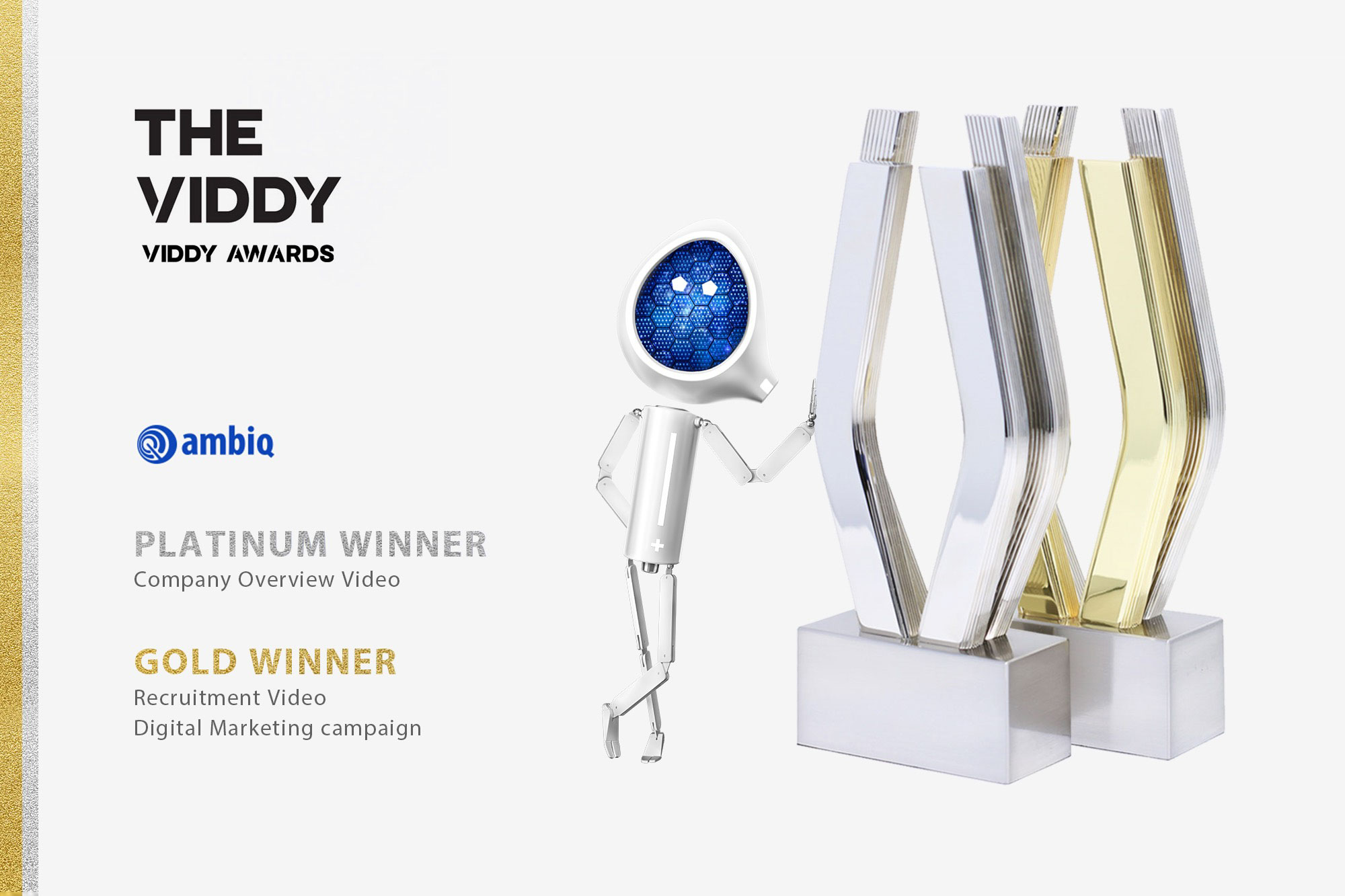 Today the Association of Marketing and Communication Professionals (AMCP) announced that Ambiq® has won two 2022 Viddy Awards, including a platinum prize for Company Overview Video; and a gold prize for Recruitment Video/Digital Marketing Campaign. 
The Viddy Awards aims to identify and recognize video artisans who excel in the scope of their own environment. Winners range from network news operations to local cable access, large production companies to freelancers, and international advertising agencies to student producers.
"To be selected among thousands of entries from our peers worldwide by the prestigious industry association is especially meaningful to us," said Charlene Wan, VP of Branding, Marketing, and Investor Relations. "The innovatively designed and meticulously executed branding and marcom plan result from the close collaborations among everyone at Ambiq. Special thanks to our CEO, Fumihide, for trusting us to be bold with many industry-first ideas and innovations."
Ambiq's mission is to enable intelligent devices everywhere by developing the lowest-power semiconductor solutions to drive a more energy-efficient, sustainable, and data-driven world. We strive to create videos, considered one of the most effective media for storytelling, to make our goals relatable and our vision shared and supported by the human race for a better future.
The Viddy Awards is one of the most coveted awards in the video industry. Since 1994, thousands of production and communication professionals have entered their best and most creative work. A list of Platinum and Gold Winners can be found on the Viddy Awards website at https://viddyawards.com/.
About The Association of Marketing and Communication Professionals (AMCP) 
The Viddy Awards is administered and judged by the Association of Marketing and Communication Professionals (AMCP). The international organization consists of several thousand marketing, communication, advertising, public relations, media production, and freelance professionals who have entered AMCP programs. As part of its mission, AMCP fosters and supports the efforts of creative professionals who contribute their unique talents to public service and charitable organizations.
Read Article in: Japanese | Simplified Chinese | Traditional Chinese