Neural Network Speech Enhancement Open-Source AI Model Operates in Real-Time with Minimal Latency and Energy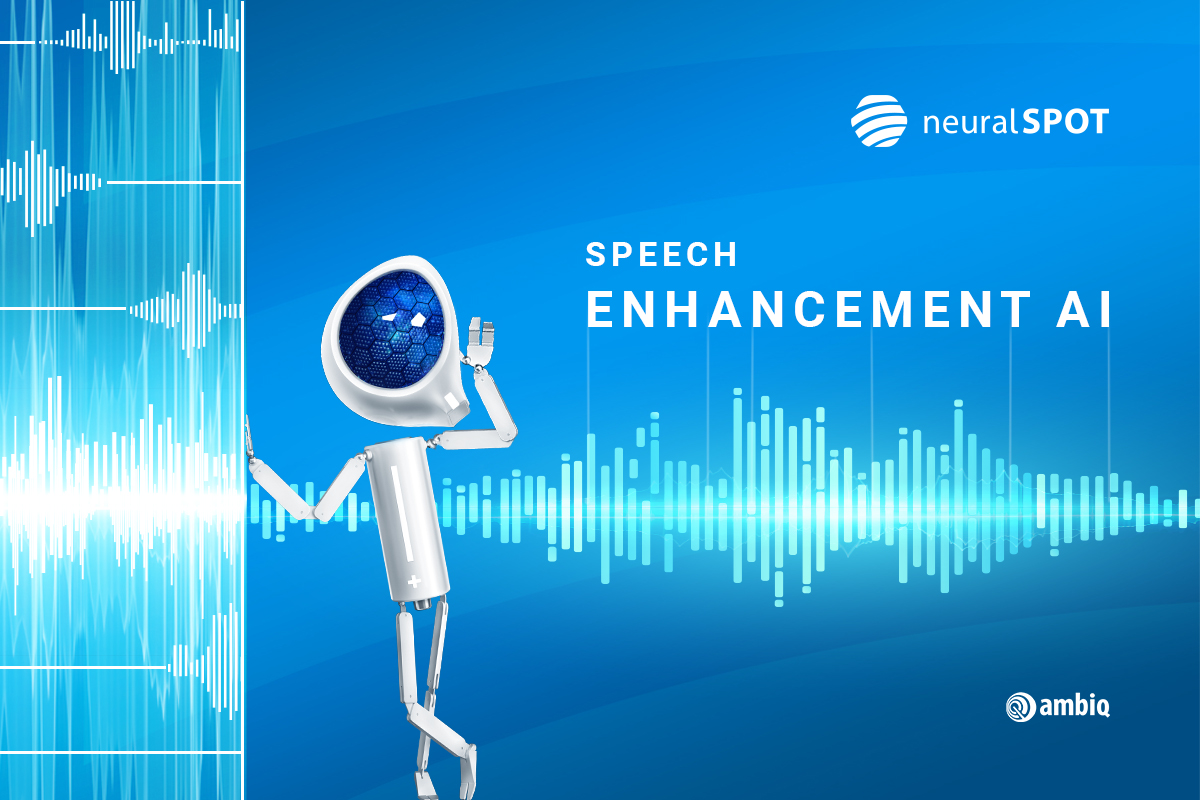 Highlights
Created from the ground up, the Neural Network Speech Enhancer (NNSE) is an open-source AI model built on Ambiq's neuralSPOT® AI SDK
Includes all the code needed for training, testing, and deploying on the Apollo4 Plus SoC to help AI developers de-noise applications in minutes
Available now as a Technical Preview to start developing AI today
Austin, TX – Ambiq®, a pioneer of ultra-low-power semiconductor solutions that deliver a multifold increase in energy efficiency, introduces the Neural Network Speech Enhancer (NNSE), its latest addition to its neuralSPOT's Model Zoo. This highly optimized AI model effectively removes background noise from speech on the device in real time, allowing clean speech capture in noisy environments. As with all Ambiq Model Zoo components, NNSE includes scripts and tools to help developers add speech de-noising capabilities to their applications. It also consists of a simple graphical user interface allowing users to easily record and save the enhanced speech along with the original noisy audio on their PC for demonstration purposes.
Speech de-noising is useful in noisy or loud environments, such as vehicle cabins, factory floors, offices, and outdoors. NNSE can capture clean speech for various applications, such as voice memo recording, voice chat, and speech recognition. This AI model is optimized to operate on devices, in real time, with minimal latency and energy utilization. While the pre-trained model is ready to use on Ambiq development platforms, NNSE also includes software to train, convert, and deploy customized models where needed. All software has been released under the permissive BSD-3-clause license for ease of deployment and development.
"Ambiq's neural network speech enhancer may be the only open-source TinyML™ implementation of AI-based speech de-noising for IoT endpoint devices," said Carlos Morales, the VP of AI at Ambiq. "The highly optimized AI model will help developers get started on speech de-noising applications on Ambiq Apollo4 Plus SoC in a matter of minutes."
AI is used extensively in the multibillion-dollar IoT space for everything from industrial anomaly detection to speech-based consumer interfaces. Ambiq's recent AI development on the Apollo SOCs broke free the limitations of power consumption and form factor of endpoints to enable a truly immersive environment where users can leverage intelligence everywhere without physical constraints. Download the Technical Preview to download and start developing AI today.
About Ambiq 
Ambiq's mission is to develop the lowest-power semiconductor solutions to enable intelligent devices everywhere by developing the lowest-power semiconductor solutions to drive a more energy-efficient, sustainable, and data-driven world. Ambiq has helped leading manufacturers worldwide develop products that last weeks on a single charge (rather than days), while delivering a maximum feature set in compact industrial designs. Ambiq's goal is to take Artificial Intelligence (AI) where it has never gone before in mobile and portable devices, using Ambiq's advanced ultra-low power system on chip (SoC) solutions. Ambiq has shipped more than 200 million units as of March 2023. For more information, visit www.ambiq.com.
Contact
Charlene Wan
VP of Branding, Marketing and Investor Relations
cwan@ambiq.com
+1.512.879.2850
Read Article in: Japanese | Simplified Chinese | Traditional Chinese