Ambiq at the CES 2024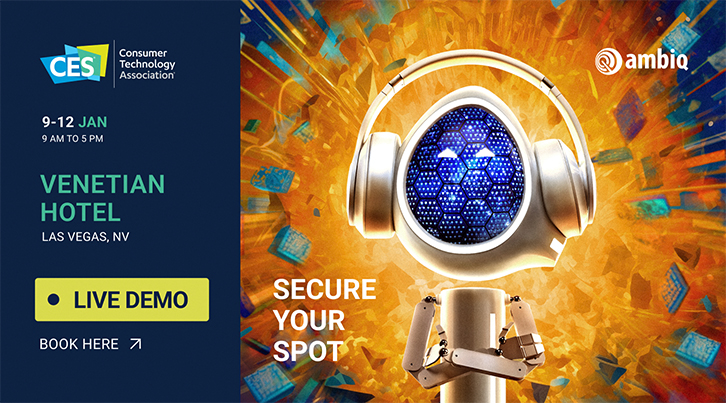 You are cordially invited to visit Ambiq as we demonstrate how our Subthreshold Power Optimization Technology (SPOT®) can help your designs Get Smart and Use Less Energy.
We will showcase some of the most popular consumer, commercial, and industrial products shipping today with our latest Artasie RTCs, Apollo MCUs, or SoCs, including Ambiq development tools and reference designs. You can also experience first-hand the award-winning neuralSPOT® and AI ModelZoo libraries in live demos.
Ambiq CES AI Day
On Wednesday, January 10, Ambiq's VP of AI, Carlos Morales, will join us to explain how the Apollo family of SoCs and neuralSPOT® SDK make it easy to develop powerful AI inferencing for endpoint devices at current consumption levels that are impossible with competing architectures.
Ultra-Mega Low Power consumption is in our DNA! We hope you'll join us to find out how.
Location:
The Venetian Hotel 3355 S Las Vegas Blvd, Las Vegas, NV 89109 Private Suite. Meet Ambiq escort in the hotel reception area
Complete and Submit the Form Below to Access the "Ambiq at the CES 2024" Materials
"Ambiq at the CES 2024"
Materials