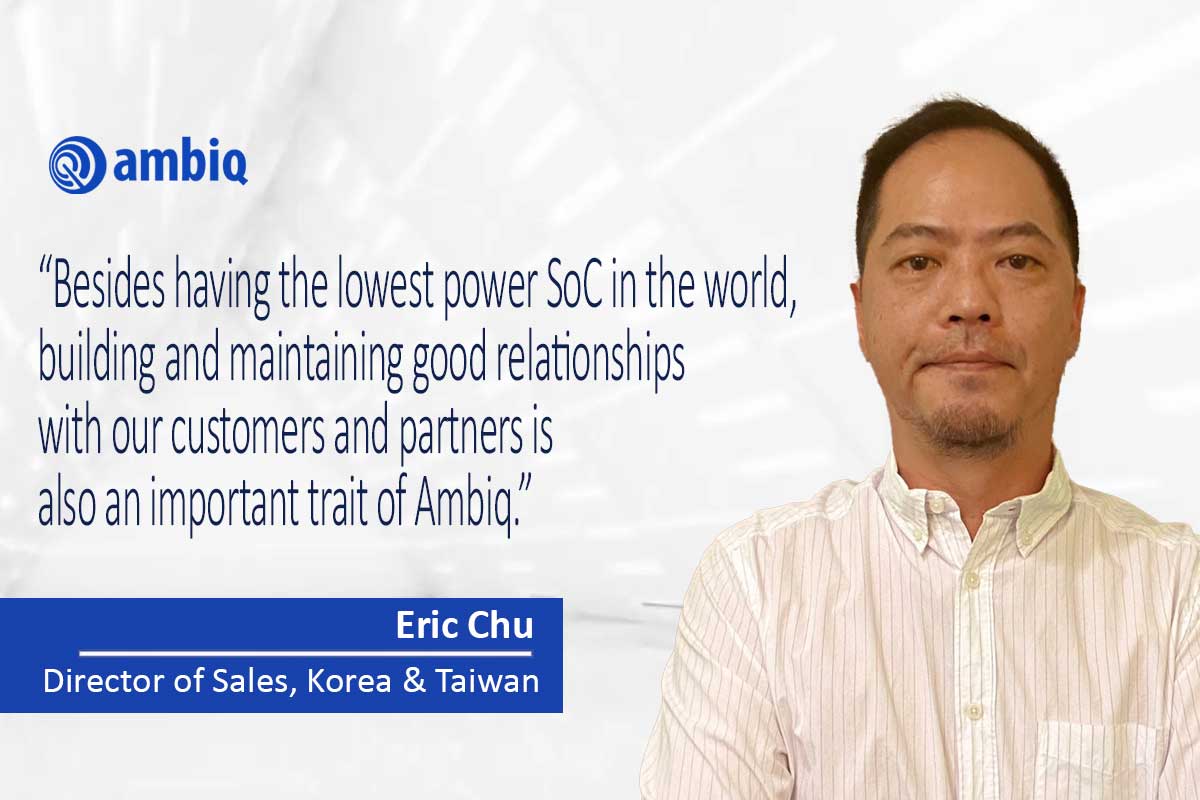 Eric Chu – Ambiq's Director of Sales responsible for Korea and Taiwan – born and raised in Taipei, Taiwan, where he lives. He graduated from National Dr. Sun-Yet-Sen University with a major in Financial Management.
We recently posed the questions below to Eric in an effort to get to know him a bit better, and to better understand his role on the Ambiq team.
How long have you been with Ambiq?
It's been over six and half years as I joined Ambiq in February 2017
Your work (what you do, with whom you work, what you find enjoyable, and what you find challenging?)
I belong to the Chief Revenue Officer's global sales group, reporting to the sales VP. Because of where I live, I manage the Taiwan and Korea regions. The most enjoyable experience of working at Ambiq is the abundant opportunities to learn and observe from colleagues new and different ways of account management, problem-solving, strategic planning, and efficient execution.
Ambiq is a global company with offices in different regions. Even though our business is in the semiconductor segment, making chips that go into everything, such as smartwatches, doorbells, security systems, and more, we are just like any other company with limited resources but great ambition. The combination of doing more with less is the most challenging part of my job.
But cross-collaboration with different groups working closely and frequently together makes things happen.
What is your favorite professional or personal achievement?
The one that stood out most to me was when we put the first generation of Apollo MCU into an HTC smartphone to support its force-sensing features. The collaboration with HTC was the first project I worked on after I joined Ambiq. The team in Taiwan worked very closely with sales and FAEs in the US to successfully enable this new feature on the smartphone. The experience was such a morale booster for everyone involved. It also taught me that the best work is always teamwork. Ever since I have proactively included people from different teams to collaborate on customer requests and celebrate our accomplishments together with gratitude and recognition.  
Tell us about a few of your favorite things.
I love jazz. The syncopated rhythms and smooth melody seem to take my mind into another zone where I can just be. I also love playing video games. As much as they are tense and dramatic at times, I found it to help refresh my mind and ease the pressure from work.
Why did you join Ambiq?
When I was interviewed for the job, I was told that Ambiq has MCU and SoC with the world's lowest power consumption. I distinctly remember that I accepted the position because I did not believe any company could claim to make semiconductors with the lowest power. When I saw the demo in person, I was convinced. Seeing is believing. The SPOT platform really did have the lowest power consumption in the world.
What recent project has made you most excited? 
We launched our Go-Wide strategy at the end of 2022 to go beyond the wearables segment, where Ambiq dominates with over 80% share. The Samsung HQ annual event has invited us to demonstrate Ambiq's low-power solution for different applications. We hope to amaze them with Ambiq's ultra-low power solutions to see if we can work together on future projects.
What do you love about Ambiq the most? 
Making the impossible possible. Even though we don't have a large team with many resources, we work collaboratively and seamlessly to achieve many impressive milestones with limited resources.
What do you think makes Ambiq stand apart from our competitors? 
Besides having the lowest power SoC in the world, building and maintaining good relationships with our customers and partners is also an important trait of Ambiq.
Why is Ambiq a great company to work for in general? 
Employees have room and flexibility to pursue what kind of life they want, whether at work or in their personal time.
Where do you hope to see Ambiq in 5 years?
I hope people around the world learn of Ambiq's revolutionary ultra-low power solutions. Having them participate in this journey with us would be a great honor.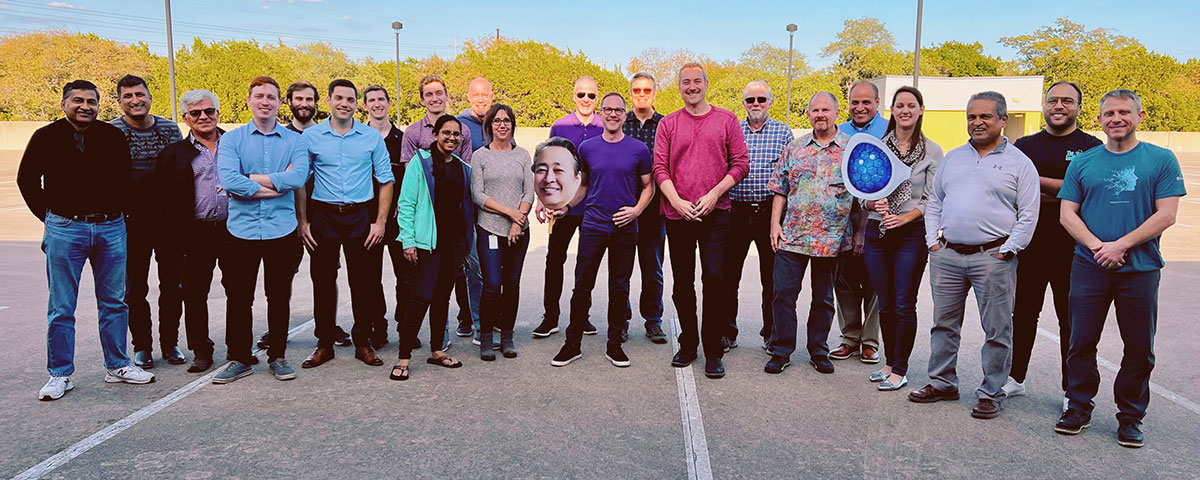 About "We Are Ambiq"
Ambiq is an innovative technology company with a culture where employees are encouraged to bring new ideas and challenge the norm. Employees are not only empowered to break new ground but are inspired to be creative and be themselves. We take workplace equality, diversity, and inclusion (EDI) seriously and embrace people from different cultures and ethnicities to help us innovate and grow.
Ambiq is the industry leader in ultra-low power semiconductor platforms and solutions for battery-powered IoT endpoint devices. From Austin to Shanghai, Shenzhen to Singapore, our global team members are shaping the future with their diverse ideas, talents, experiences, and backgrounds.
Sep 20. 23