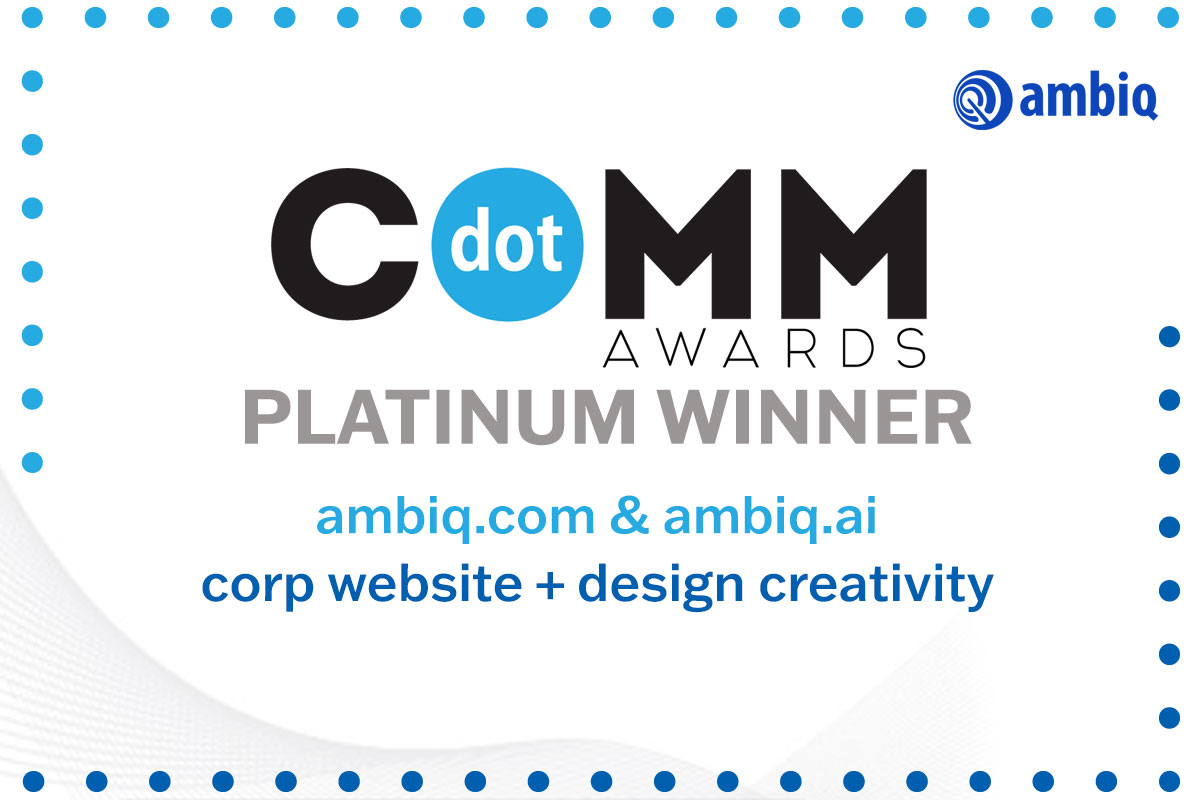 Ambiq®, a leading developer of ultra-low-power semiconductor solutions that deliver a multifold increase in energy efficiency, was named winner of four dotCOMM Awards, presented by The Association of Marketing and Communication Professionals (AMCP).
The AMCP awarded Ambiq two Platinum statuettes for Corporate Website for both Ambiq.com and Ambiq.ai; the company was awarded two additional Platinum statuettes for Website Design Creativity, both for Ambiq.com and Ambiq.ai.
The dotCOMM Awards aims to identify and recognize companies and individuals whose talent exceeds a high standard of excellence and whose work serves as a benchmark for the industry. There were over 2,500 entries from throughout the United States, Canada, and numerous other countries in the 2023 competition.
"We are passionate about innovation and work tirelessly to achieve our mission of enabling intelligence in all endpoint devices," said Charlene Wan, VP of Branding, Marketing, and Investor Relations at Ambiq. "We're extremely grateful for the unyielding trust and support from our board, executives, and our global family of employees."
Details about the dotCOMM Awards and the list of winners are available at www.dotcommawards.com.
About Ambiq
Ambiq's mission is to develop the lowest-power semiconductor solutions to enable intelligent devices everywhere by developing the lowest-power semiconductor solutions to drive a more energy-efficient, sustainable, and data-driven world. Ambiq has helped leading manufacturers worldwide develop products that last weeks on a single charge (rather than days), while delivering a maximum feature set in compact industrial designs. Ambiq's goal is to take Artificial Intelligence (AI) where it has never gone before in mobile and portable devices, using Ambiq's advanced ultra-low power system on chip (SoC) solutions. Ambiq has shipped more than 200 million units as of March 2023. For more information, visit www.ambiq.com.
About the Association of Marketing and Communication Professionals
dotCOMM Awards is administered and judged by the Association of Marketing and Communication Professionals (AMCP). The international organization consists of several thousand marketing, communication, advertising, public relations, media production, and freelance professionals who have entered AMCP programs. As part of its mission, AMCP fosters and supports the efforts of creative professionals who contribute their unique talents to public service and charitable organizations.
Contact
Charlene Wan
VP of Branding, Marketing, and Investor Relations
cwan@ambiq.com
+1.512.879.2850
Read Article in: Japanese | Simplified Chinese | Traditional Chinese