Smart Tech Gadgets for Travel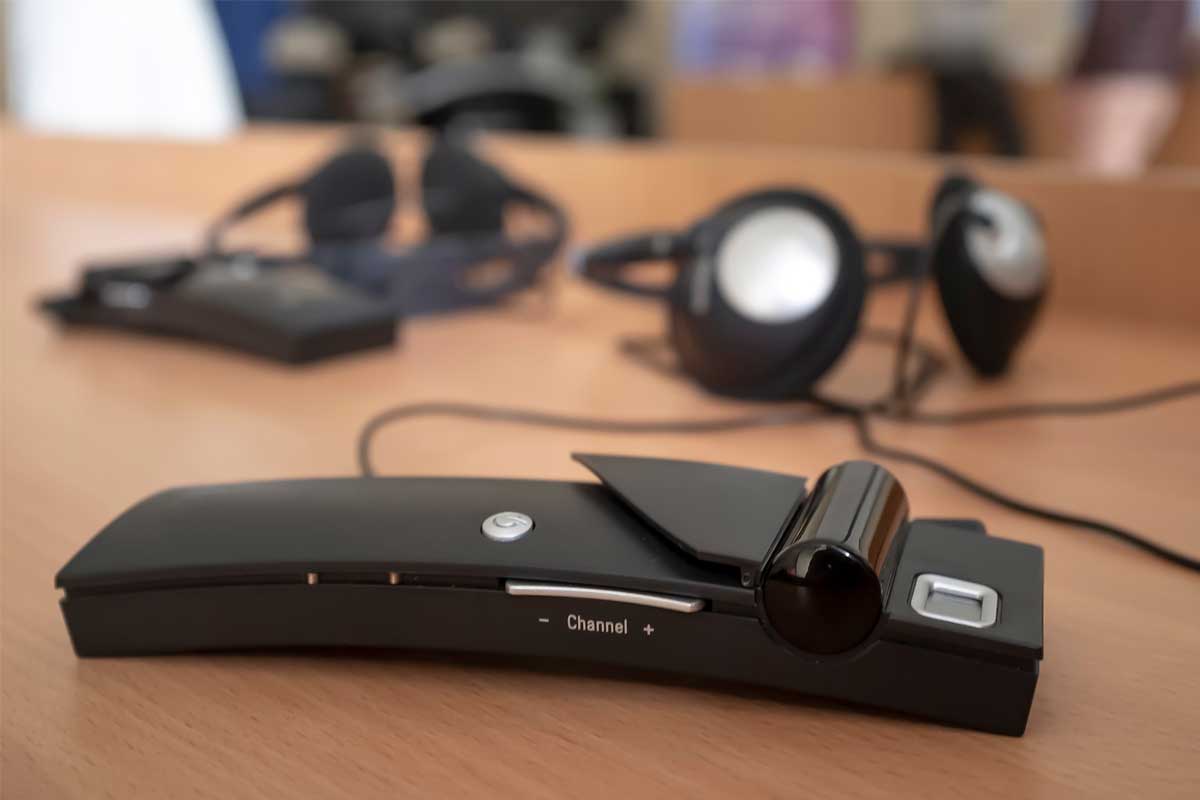 Globalization has connected the world more than ever, making foreign travel easy and changing the habits of holidaymakers for good. While travel brings a wealth of new possibilities and opportunities, it also presents certain challenges that can create speed bumps, obstacles, and barriers enough to make the experience much less pleasurable.
Advancements in energy-efficient technology have the power to not only break down these barriers but also to revolutionize the entire travel experience, bringing factors such as communication, comfort, and safety into much closer reach. New smart tech gadgets are constantly being brought to the market to solve problems for travel enthusiasts. With global travel firmly back on the cards, a quick Google search is all the evidence you need to witness the steady incline in demand. Read on as we introduce you to some smart tech gadgets you should consider taking when traveling.
Personal Smart Umbrella
Anyone caught short in bad weather will agree that keeping an umbrella handy is always prudent. Preparing for unexpected weather change is likely an afterthought when you're in a rush to get out and explore a new destination. How convenient it'd be if your smartwatch could receive a notification reminding you to be prepared for the local weather in advance!
Thanks to Bluetooth® connectivity, easily portable sizes, and some impressive quality credentials, a smart umbrella will protect you from the elements no matter where you are in the world. Being connected also means you can easily find your umbrella just in case you misplaced it.
Smart Bottle
Staying hydrated is key to handling a packed travel itinerary, but remembering to take a drink is hard. With a smart water bottle, you can receive a push notification when it's time to rehydrate, ensuring your water intake is steady throughout the day.
Some models can track your daily liquid consumption, and others can double up as other devices such as Bluetooth speakers or power banks, making it easy for you – and your phone – to stay topped up and fully functioning. Others, like the LARQ Bottle PureVis™ are equipped with UV technology that can not only self-clean the bottle but also purifies the water, and this becomes quite handy when traveling to places with questionable water sources.
Smart Translator
Perhaps the greatest way to make the most of a trip is by fully immersing in the culture, and there's no better way to build rapport and learn from the locals than to speak the language. Fortunately, this no longer means leafing through a phrasebook – travelers can now use smart translation devices that work in real-time.
With a Bluetooth or Wi-Fi® connection, smart translators can detect slang, idiom, and jargon to instantly produce the most accurate translations possible, making conversation seamless. And with extensive battery life, smart translators can help keep the conversations going, especially when asking for directions and/or recommendations while traveling in a foreign country.
Smart Travel Mirror
After spending hours flying on a plane, or sitting on a train, having a smart mirror with built-in LED lights and a Bluetooth connection allows travelers to freshen up seamlessly and tend to cowlicks or bed heads while streaming music or listening to a tutorial video. A smart mirror equipped with a long-lasting rechargeable battery also allows travelers to easily take this on their travels for an effective way to get ready for their day.
Smart Tags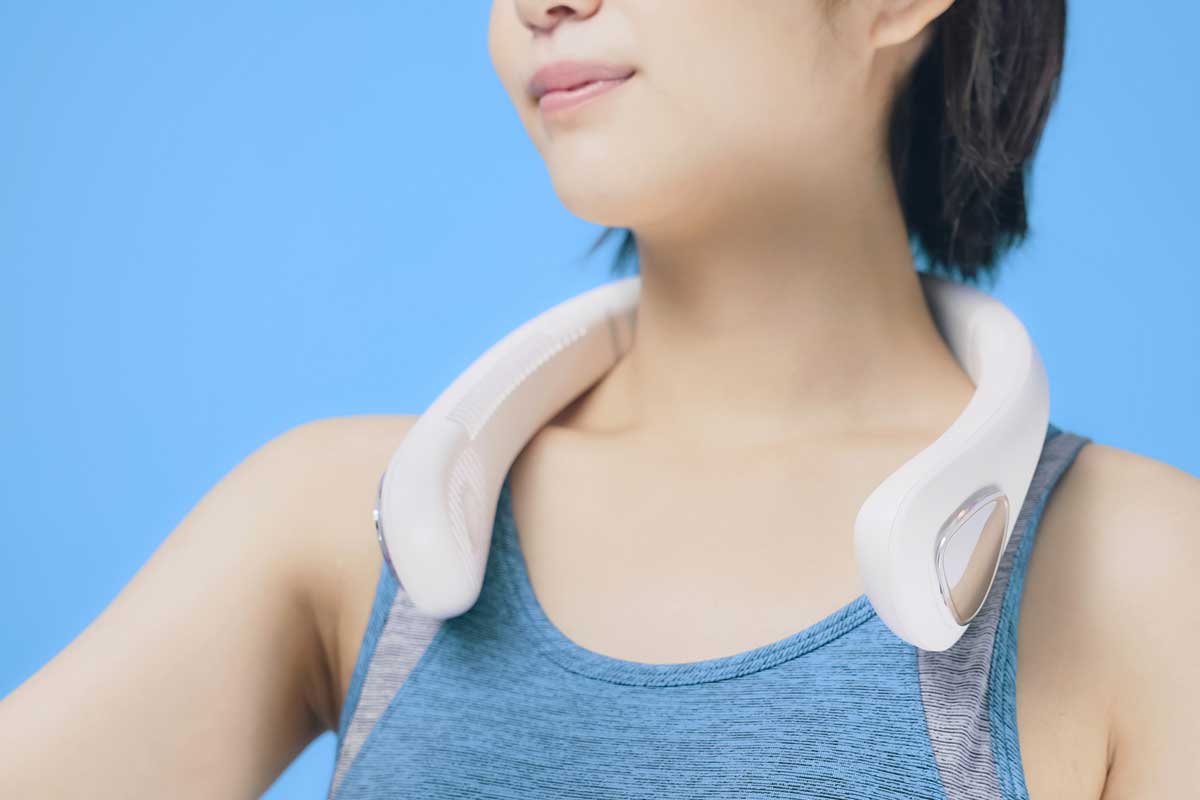 Lost luggage is the fastest way to put a dampener on a trip before it has even started, but these crises can be avoided by smart luggage tags that track your bags through GPS or Bluetooth. Thanks to integrations with mobile apps, many smart tags allow you to view a tagged personal item's position on a long battery life.
Smart Neck Fan
In warmer climes, keeping cool is a priority for travelers on the go. Instant relief in the heat is just a temperature past a certain threshold.
Using AI-powered temperature sensors, these gadgets can monitor your environment instantly and enact a remedial fan to cool you down.
Smart Sunglasses
Arguably the ultimate travel-friendly gadget – smart sunglasses are making waves on the wearable tech scene with big brands such as Ray-Ban integrating AI and IoT technologies into their products. Their bestselling Wayfarers have been upgraded with the ability to take pictures and videos, answer calls and listen to music on the go, helping travelers reduce the number of devices they bring and simplifying their experience.
Integration with a mobile app is also possible, allowing you to store and view the image and video content captured by the smart sunglasses. Many also come equipped with touch sensors, allowing users to control image capture by tapping the frame.
Smart Tire Inflator
A must for road trippers, a smart cordless tire inflator adds peace of mind to your journey and offers a fast solution in the event of low-tire pressure. Using an LED display, real-time information on tire pressure and battery life is available, so the user can monitor inflation and be prepared to recharge the battery.
Another victory for convenience is the ability to inflate a tire in just 3 minutes, thanks to an upgraded motor.
Smart Carry-On Suitcase
Travel would be much easier when your carry-on bag works as hard for you as possible. A smart suitcase allows users to track its position, log when it is opened or closed, and use it as a light source in low-light environments. Equipped with location tracking, sensors, Bluetooth-powered push notifications, and LED lighting, a smart suitcase allows users to track its position, log when it is opened or closed, and use it as a light source in low-light environments.
Using AI technology and being connected keeps travelers in control of their luggage and adds an extra level of security if it is lost or stolen.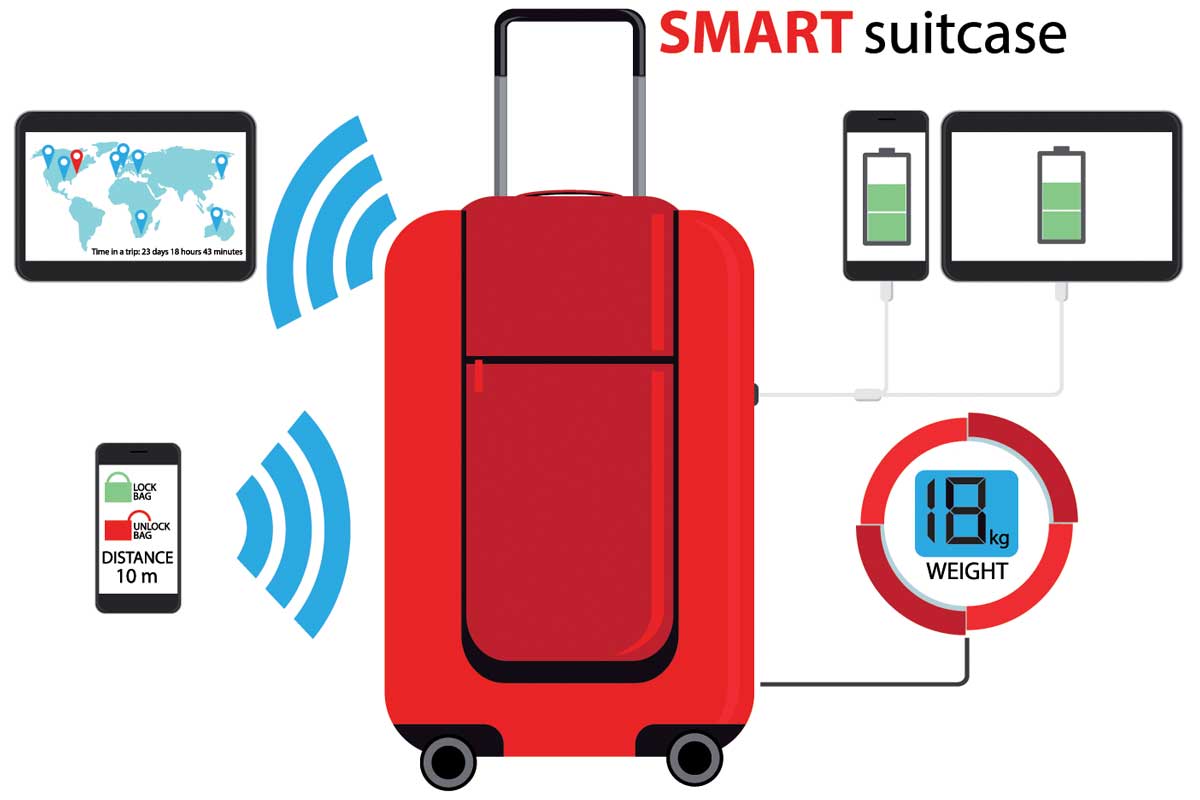 How Ambiq Contributes
Smart IoT devices depend on reliable and ultra-low-energy components for a harmonious user experience. Additionally, their processors must be optimized to perform these tasks on a low electric charge. The Apollo4 Blue Plus SoC has set a new standard in energy efficiency for battery-powered devices with an integrated Arm® Cortex®-M4 processor with Floating Point Unit (FPU), TurboSPOT®, and SecureSPOT®, increasing computational capabilities while dramatically lowering the active power consumption.
For over a decade, Ambiq® has been laser-focused on inventing and delivering the most revolutionary System on Chip (SoC) solutions in the market. Through the state-of-the-art Subthreshold Power Optimized Technology (SPOT®) platform, Ambiq has helped many leading manufacturers worldwide create products that can operate for days, months, and sometimes years on a lithium battery or a single charge.